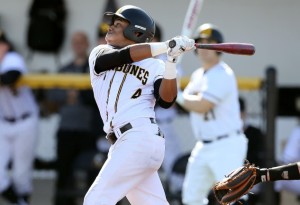 By PAUL GOTHAM
ROCHESTER, N.Y. — More than 1,300 miles separate Monroe Community College from Enid, Oklahoma. The Tribunes started making their travel plans on Sunday afternoon.
Monroe sent 11 batters to the plate in a decisive third inning and never looked back en route to claiming the 2016 National Junior College Athletic Association (NJCAA) East District Division II Championship with a 14-4 triumph over Dean College.
Tournament Most Valuable Player, Connor Lewis (St. Marguerite d'Youville), delivered a two-run single as the Tribunes grabbed a lead they would not surrender. Lewis plated Mike Pringle (Pittsford-Sutherland) and Matt Brooks (Auburn), and the Tribunes took an early 7-2 advantage.
"I was just looking for a first-pitch fastball.," Lewis said. "We preach first-pitch fastball swinging especially with runners in scoring position. First good pitch I saw I put a good swing on it."
The sophomore shortstop finished 6-for-12 with six RBI and two runs scored in three tournament games.
"It could have gone to a lot of different guys," Lewis said of his MVP.  "It's an honor, but the championship means a lot more."
Luke Brust (Honeoye Falls-Lima) and "Bubba" Boutelle led the inning with back-to-back triples. Pringle beat out an infield base hit, and Brooks walked. Alex Saville (Vernon-Verona-Sherrill) loaded the bases when his sacrifice bunt was misplayed.
"It is amazing how this team does string hits back-to-back," Monroe coach Dave Brust said. "They just feed off that. It's hard to explain, but you can feel it in the dugout."
After Lewis singled, Johnny Ricotta (Greece Athena) added a run with a fielder's choice. Collin Stack (Maple Grove) doubled, and Luke Brust brought home two more with a single to center field.
"It's like once they see blood in the water they start getting after it," Dave Brust added. "I've never seen anything like it.  It's an impressive quality how they feed off each other."
Connor Hurst (John Fraser) hurled five innings for the win. The freshman left-hander allowed two runs on four hits. Dean College tallied twice in the first inning when Brandon Valls and Jesse Archambault led the game with back-to-back doubles.
"The few bloop hits rattled me a little bit," Hurst said. "Got settled in during the second inning and just went from there. It's easier to reset with the guys I have behind me. They're always there for me. I knew we would get the runs that we did."
Hurst did not allow another hit until giving up a two-out single in the fifth.
"It's hard to believe he's a freshman," Dave Brust said. "He has shown nothing but poise and self-control and class since day one.
"He looked like a ten-year veteran out there… He knows how to pitch. He commands a very good change up and spots his fastball. He keeps guys off balance with his breaking pitch. When he does get hit, he understands next pitch."
Lucas Godlewski (Little Falls) worked three innings in relief.
Luke Tomczyk (Churchville-Chili) retired the side in order in the ninth to clinch eighth district title.
Monroe added a run in the seventh before putting the game out of reach in the eighth.
Stack connected on a two-run home run – a 400 ft. shot to dead center field, and Monroe scored six more for the 14-4 final result.
"It was a two-o count, and I was looking for a ball that I could hit," Stack explained. "He threw me a fastball right down the middle, and I just got on top of it."
Pringle and Brooks started the stanza with back-to-back base on balls. Saville loaded the bases when he beat out a Baltimore Chop. Lewis brought in a run with a fielder's choice. A passed ball scored a run, and Ricotta loaded the bases with another walk. Anthony Santoro (Henninger) drove in two with a sacrifice fly when Saville scored from third and Lewis came home from second on the play.
"When I saw the fly ball was deep, I knew for sure I was tagging," Lewis said. "I was going no matter what. That's how you play baseball."
Dean scored a run in the eighth and loaded the bases before Stack and Lewis converged on a pop foul near the fence down the left field line.
"The guy at bat had been hitting balls over there," Lewis said of Dean's Archambault. "His first hit was a bloop single. I was shading a little bit more in case he sliced it again, especially with two strikes. I had a chance for it, but "Stacks" got to it."
"I made an error earlier in the inning, so I knew I had to make up for myself," Stack noted. "I saw the ball going foul. At first I didn't think I was going to get to it, and I imagine Connor didn't think he going to get to it because nobody said anything. I just got to the ball, stuck my glove up in the air, jumped up and he slid under me, and I ended up coming up with the ball."
Stack finished the game 4-for-5 with three RBI and two runs scored.
Boutelle, Luke Brust and Saville all collected two hits.
Monroe improved to 33-14 with the win. The Tribunes are 28-4 since April 1st.
The NJCAA DII World Series takes place at the David Allen Memorial Ball Park.
Monroe last won the District in 2009.
Current Monroe assistant coaches Cory Brownsten (2008), Adam Curynski (2007) and Mark Perlo (1978) have all played on a district champion at MCC.