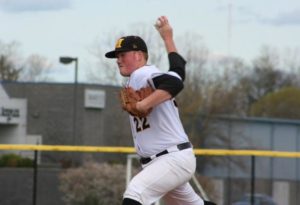 By PAUL GOTHAM
ROCHESTER, N.Y. — A trio of pitchers limited opponents to two earned runs, and the offense pounded out 24 hits as the Monroe Community College Tribunes defeated Westchester Community College, 54 and Dean College, 13-2 (five innings) to move within one win of the 2016 National Junior College Athletic Association Division II East District Championship.
Zach Vennaro (New York Mills) struck out nine and walked none over seven innings in game one. The sophomore right-hander allowed three unearned runs on seven hits.
Connor Lewis (St. Marguerite d'Youville) broke a 2-2 tie in the fifth with a two-run home run.
Mike Pringle (Pittsford-Sutherland) made it a 5-3 one inning later with an RBI ground-rule double.
Westchester CC took a 2-0 lead in the top of the third. Monroe answered in the home half of the frame. Johnny Ricotta (Greece Athena) and Anthony Santoro (Henninger) drove in runs.
Luke Tomczyk (Churchville-Chili) worked two innings for the save.
Matt Brooks (Auburn) finished 3-for-4 including a three-run home run in Monroe's victory over Dean. Brooks drove in four and scored three runs in the game.
Colin Johnston (Greece Athena) struck out five and walked none in improving to 9-2 on the season.
Alex Saville (Vernon-Verona-Sherrill) had three hits in four at bats in the win.
Luke Brust (Honeoye Falls-Lima) was 2-for-2 with a walk, two RBI and three runs scored.
Pringle finished 2-for-3 with three RBI and two runs scored.
Dean College eliminated Westchester CC.
Monroe and Dean College will decide the East District Championship on Sunday. MCC needs one win. First game is scheduled for 11 a.m. at Tribune Field.