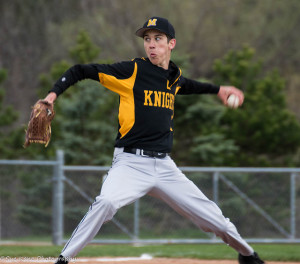 Four first round games will open the Class AA Championship on Tuesday. Top four seeds – East (1), Schroeder (2), McQuaid (3) and Penfield (4) await the winners. Here is the rundown:
No. 1 seed EAST (18-2)
Player(s) to watch: Sophomore Jordi Agosto leads the Eagles batting .508 (32-63) with an on-base percentage of .671 to go with 42 runs scored and 25 RBI. Agosto has 11 extra-base hits including seven doubles and three triples. He has stolen 20 bases.
Trends: East recently won its third straight RCAC title.
How the Eagles win the title: East has the offensive potential to score runs in bunches as evidenced by their recent 20-run outburst to take the RCAC title.
Stumbling block: A semi-final meeting with Penfield and any number of the Patriots hurler could short-circuit East's production.
No. 2 seed WEBSTER SCHROEDER (15-5)
Player(s) to watch: Justin Graham (.400/19 R), Nick Lawlor (4-1/1.04 ERA) and Shane Marshall (.394/22 RBI/21 R/16 SB).
Trends: A recent two-game skid (the Warriors first since 2013) has been put in the rearview mirror. Did they learn anything about themselves during the slide?
How the Warriors win the title: Webster-Schroeder's lineup lacks any holes. Marshall possesses a dynamic offensive skill set and defensive tools. With Lawlor on the mound they are close to unbeatable.
Stumbling block: Webster Schroeder's horses can get stuck in the paddock as seen in their recent outing against Fairport when Connor Ewing retired the first 16 Warriors he faced. Oh yeah, Webster-Schroeder could face Fairport in the semi-finals.
No. 3 McQUAID (15-5)
Player(s) to watch: Gerry DiMarco (.400/15 RBI/ 15 SB), Tyler Griggs (.447/14 RBI/14 R) and Donnie Moffat (5-3/2.18 ERA/50K).
Trends: This is not the same McQuaid team which took the title a year ago. Fourteen seniors graduated from that squad. McQuaid carries a four-game winning streak into sectionals including an impressive road win (4-3) over St. Joe's (VI) to close the season.
How the Knights win the title: Erik Johnson (7-0/0.34 ERA) and Moffat give the Knights a formidable starting duo. Fasten your seat belts. Have 9-1-1 ready on the cell. No open base is safe with the Knights. McQuaid has stolen 87 bags this season while getting caught on just 17 occasions.
Stumbling block: Will McQuaid's inexperience be a factor?
No. 4 PENFIELD (14-6)
Player(s) to watch: Jack Hartnett (.384/15 RBI), Luke Westervelt (.375/13 RBI), Kyle Straube (4-1/2.41 ERA/30K) and Ryan Kalbfus 3-1/2.68 ERA/21K.
Trends: Seems like a distant memory when Penfield opened the season winning their first nine games. The Patriots have gone 5-6 since then.
How the Patriots win the title: Penfield's hitters know how make adjustments at the plate. They can string together hits especially with two outs.
Stumbling block: Late-inning leads are not always a sure thing for Penfield.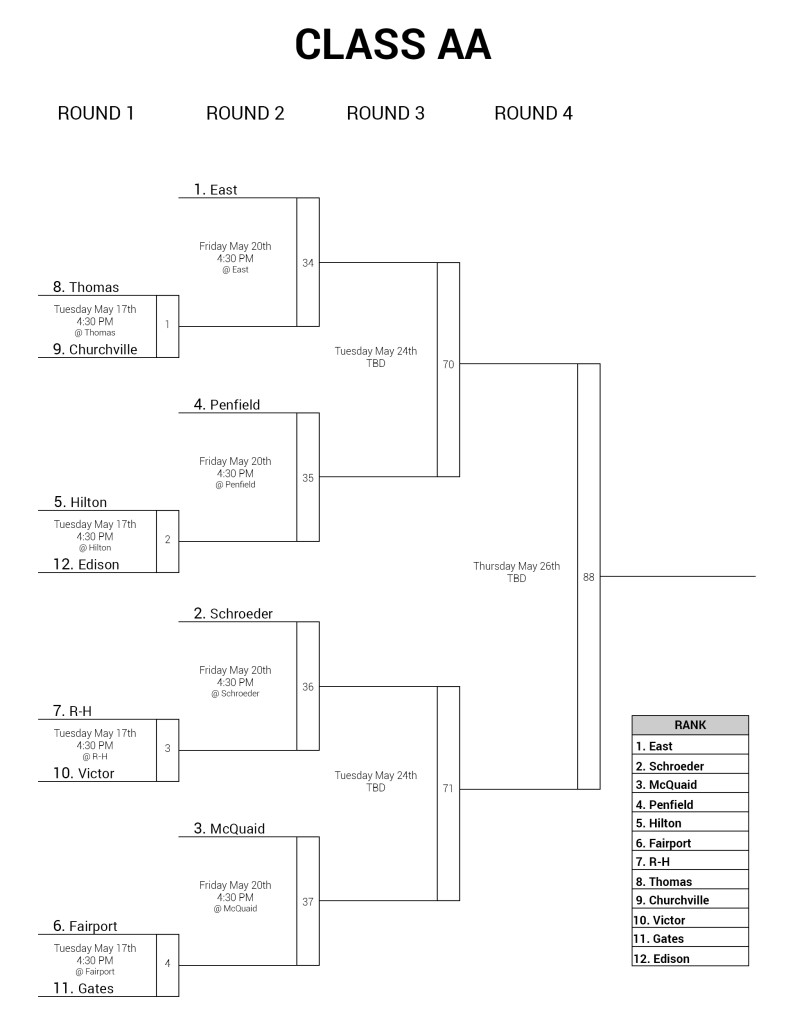 No. 5 HILTON (13-7)
Player(s) to watch: Jack Annable (.310(18-58)/8R/13 RBI), Chase Metzger (.320 (16-50)/10 R/3 2B/7 RBI), Dominic Palma (.471/12 RBI/20 R/.650 OBP) and Justin Resseguie (.327 (18-55)/12 R/3 2B/ 7 RBI).
Trends: Hilton has plenty of experience in close games. After dropping four one-run contests earlier in the season, the Cadets have won a pair since then by the smallest of margins.
How the Cadets win the title: Hilton played a portion of the season of the season without Brent Turpyn. With the clean-up hitter in the lineup, the Cadets are always a threat to put a crooked number on the scoreboard.
Stumbling block: Do the Cadets have the pitching to give their bats a chance to win games?
No. 6 FAIRPORT (13-7)
Player(s) to watch: Jake Rugaber (.404/11 RBI/13 R), Connor Ewing (5W/1.55 ERA/32K) and Matt Buss (4W/1.97 ERA/23K).
Trends: Fairport won six of its last eight, but the two losses occurred as the result of late-inning problems. Stopper Chad Riorden (0.80 ERA) was out of the lineup recovering from an injury during that time.
How the Red Raiders win the title: Fairport is aggressive at the plate and on the base paths looking to generate offense through hit-and-run situations. Combine that with Ewing on the mound, and the Red Raiders automatically become a contender.
Stumbling block: See the previously mentioned late-inning situations.
No. 7 RUSH-HENRIETTA (10-10)
Player(s) to watch: Steve Hendrick (.387(24-62)/4 2B/19 RBI), Casimer Sobaszek (.348(24-69)/4 2B/11 RBI) and Hunter Barber (.318(14-44)/ 7 RBI/3-2/28.33 IP/ 2.22 ERA/17 K).
Trends: A pair of recent seventh-inning rallies to defeat Fairport and Webster-Thomas show what the Royal Comets are capable of doing. Will that carry over to the post-season?
How the Royal Comets win the title: Barber is a gutsy starter. The junior right-hander isn't easily rattled and is capable of getting R-H to the seventh inning against any opponent.
Stumbling block: Are the Royal Comets deep enough to compete with the top teams?
8. WEBSTER-THOMAS (9-11)
Player(s) to watch: Ryan Marketell (.354/16 R/12 RBI/3-1/31.2 IP/36 K/1.77 ERA), Brennen Smith .344 (23-61)/14 R/5 2B/5 3B/1 HR/19 RBI,1-1/16 IP/0.88 ERA/24 K), Stephen Edgett .338 (23-68)/18 R) and Nic Fiore (.500(15-30)/12 R).
Trends: Injuries have slowed a potent Webster-Thomas lineup. If healthy, batten the hatches.
How the Titans win the title: Smith and Marketell.
Stumbling block: See the previously mentioned injuries.
9. CHURCHVILLE-CHILI (9-11)
Player(s) to watch: Ben Martin (.310 (18-58)/14 BB/8 2B), Scott Neu (.303/13 R/4-2/1.95 ERA/43 IP/33 K/6 CG) and Billy Sanborn (.388/16 R/11 RBI/ 12 SB/2-2/1.96/ 38K).
Trends: Looking for a team with talent and a healthy sense of nothing to lose? Look no further than the C-C Saints.
How the Saints win the title: Martin, Neu and Sanborn are capable of igniting a rally. Mix in Colin Coykendall and the Saints can put numbers on the scoreboard…quickly.
Stumbling block: C-C is capable of defensive implosions. An error to the Saints is like that first ant in the house during spring: there's never just one.
10. VICTOR (7-13)
Player(s) to watch: Nate Hampson, Aaron Schlarbaum (.442/2 2B/1 3B/1 HR/11 RBI), Ryan Simmons (.279/4 2B/15 RBI/2-1/2.20 ERA/28.2 IP/16 K), Nick Varone (.350/6 2B/1 3B/5 RBI) and Riley White (1-1/18 IP/1.17 ERA/7 K/1 save).
Trends: Don't let the record fool you. Victor doesn't beat itself.
How the Blue Devils win the title: No surprise here, small ball is Victor's way. The Blue Devils know how to move the runner with a bunt even against the tightest of defenses.
Stumbling block: Can the Blue Devils generate enough offense?
11. GATES-CHILI (3-17)
Player(s) to watch: Stephen Fiammi and Tanner Pettit.
12. EDISON TECH (2-17)
Player(s) to watch: Jacob Heredia (.268/8 RBI/14 R/32.1 IP), Yahzeed Singleton (.306/7 RBI/8 R).