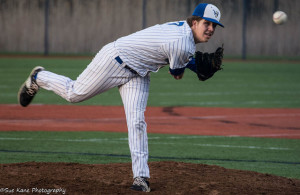 PENFIELD 10 VICTOR 9
Victor ended its league play  at Penfield losing on a walk-off sacrifce fly in the bottom of the seventh. Victor battled back from an early 6-0 deficit. Nick Varone, Aaron Schlarbaum and Ryan Simmons all had two hits for Victor. Freshman shortstop Santino Rosso scored twice and recorded his first varsity hit sparking a six-run inning which put the Blue Devils ahead 9-6 in the top of the fifth inning. Ryan Simmons, Andrew Westbrook, Nate Hampson and Riley White all shared the pitching duties for Victor.
Victor is 5-5 in league play and 7-12 overall with one game left to play vs Canandaigua. The game is going to be played either Friday or Saturday depending on the weather.
WEBSTER SCHROEDER 4 RUSH-HENRIETTA 2
Nick Lawlor threw a complete game 6-hitter. Shane Marshall finished 2-for-3 with three RBI. The Webster Schroeder junior is 5-for-7 in his last two games with six RBI and a run scored. Rush-Henrietta's Steve Hendrick was 2-for-3 with a double and an RBI.
GREECE ARCADIA 13 BATAVIA 0
Dan Freese sparked a seven-run third with a bunt single, and Neal McMullen tossed five shutout innings for the win. The Titans sent 13 to the plate in the decisive third. Greece Arcadia claimed the Division 4 title for the second straight year. It's the third title in head coach Chris Ruggeri's 18-year career.
McQUAID 4 ST. JOSEPH'S (VI) 3
Gerry DiMarco plated AJ Fina with the game winner on a one-out single in the fifth. Donnie Moffatt allowed three runs (two earned) on five hits over seven innings for the win. The senior southpaw struck out five and walked two. Dimarco and Fina collected two hits apiece as did Jonathan Catapano.
WEBSTER THOMAS 11 FAIRPORT 8 (eight innings)
Ryan Marketell delivered a two-run home run in the eighth as Webster-Thomas outlasted the Red Raiders in a 27-hit affair. Nicholas Fiore had the game-winner when he plated Stephen Edgett. Edgett led the eighth with a double, took third on a wild pitch, and scored on Fiore's line drive single to center. Ryan Mason induced three ground outs in the bottom of the eighth to preserve the victory for the Titans. Mason also finished 4-for-5 with four RBI for Webster-Thomas. Edgett was 4-for-5 with four runs scored. Fiore scored four runs and drove in two with three hits. Brennen Smith chipped in two hits in four trips to the plate with a double, stolen base, two RBI and two runs scored. Fairport's Matt Buss collected two hits including a grand slam in the first inning.
BROCKPORT 5 CHURCHVILLE-CHILI 2
Shaye Bartnick finished 2-for-3 with two RBI and a run scored as Brockport claimed the Monroe County Division 3 title. Mitchell Henshaw added a two-run home run in the fourth. Churchville-Chili's Billy Sanborn had three hits and was a home run shy of hitting for the cycle.
GREECE ATHENA 10 GATES-CHILI 0
Justin LoTemple tossed a one-hitter with six strike outs. LoTemple also drove in three runs. Dom DiStefano and Justin Bunting collected three hits apiece. Trevor Layne and Mike Putman both had two hits.
HILTON 15 SPENCERPORT 3
PITTSFORD-SUTHERLAND 5 IRONDEQUOIT 1
Sophomore Graham Schild hurled a 5-hitter with eight strike outs.
PITTSFORD MENDON 6 HONEOYE FALLS-LIMA 4