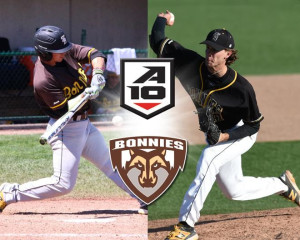 Courtesy of GoBonnies.com
ST. BONAVENTURE, N.Y. – St. Bonaventure University senior Thad Johnson has earned Atlantic 10 baseball Player of the Week honors while his sophomore teammate Brandon Schlimm has received Co-Pitcher of the Week accolades.
Johnson batted .500 (11-for-22) with a .542 on-base percentage in five games over the past week, knocking in six runs. He posted at least one hit in all five games and multiple hits in three contests. He keyed a win over Little Three rival Canisius on Wednesday by going 4-for-5 at the plate with a pair of doubles and four RBIs.
On Friday vs. George Mason, the Frewsburg native went 2-for-4 and then recorded the final two outs of the game on the mound to earn his 17th career save, breaking the all-time Bona record for career saves. Sunday, he fashioned a 3-for-5 line at the plate with another RBI to help the Bonnies cap off an Atlantic 10 series victory. For the season, Johnson leads the Bonnies with 25 RBIs.
Schlimm pitched a gem on Friday afternoon, guiding the Bonnies to a 3-0 win over George Mason. He tossed 8.1 shutout innings, scattering four hits while striking out a career-high 12 batters and walking three. He struck out at least one batter in every inning and had four 1-2-3 innings. A Kersey, Pa., product, he tossed 8.1 innings of shutout ball while allowing three walks and four hits (all singles). Schlimm is allowed just six hits and one run in 17.1 innings pitched over his last two starts. He ranks third in Atlantic 10 with a 1.96 ERA this season and in six conference starts he is 4-1 with a 1.52 ERA.
Schlimm shares the award this week with Rhode Island's Tyler Wilson.
St. Bonaventure is 23-19-1 overall on the season and currently sits a game out of an Atlantic 10 Tournament spot with an 8-10 record against conference competition. The Bonnies host Saint Louis in a three-game series beginning Thursday.