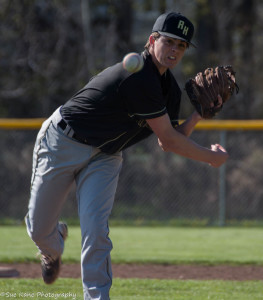 By PAUL GOTHAM
ROCHESTER, N.Y. — Hunter Barber tossed a 4-hitter, and the Rush-Henrietta Royal Comets scored three runs in their final at bat to defeat league rival Fairport Red Raiders, 5-4.
Barber struck out four, walked four and allowed two earned runs. The junior right-hander surrendered just one hit the first time through the batting order and faced the minimum in three separate innings. But as his coach noted, the Royals Comets hurler made the difference during a pair of mid-inning rough patches.
"We talk a lot about limiting the damage," R-H coach Bill Rasmussen said. "Good teams in Monroe County are going to score runs against you, but being able to shut it down at one run or at two runs, you can come back and you can play for that."
Barber stranded a combined four runners in the fourth and fifth innings.
"For me, that was the game right there," Rasmussen stated. "What has been our challenge all year is the one or two big innings."
Chris Rizzolo singled to right to start the Fairport fourth. Mike Sabatine beat out an infield base hit. TJ Lucey loaded the bases when he was hit by a pitch, and Barber's counterpart, Matt Buss, brought home the first run with a sacrifice fly. After Mike Perlo reached via a second hit by pitch, Tim Gaudioso drove in the second run with a ground out.
But Barber escaped the inning with a routine fly ball. He issued a pair of one-out walks in the fifth.
"He struggled a little bit with the command of his fastball, but he was very consistent with his curveball," Rasmussen noted. "That allowed him to pitch backwards a little bit. It's not ideally what we want to do all the time, but the bottom line is he found what worked, and he found a way to make it happen today."
Lucey loaded the bases again, this time with a two-out hit in the fifth. It looked like Barber would avoid any further damage when he induced a ground ball, but an errant throw brought home a pair of runs. He kept the deficit to three getting another ground ball – this time to end the inning.
"It hurts a little bit when your fastball isn't working," Barber said. "But the curveball was working good today. It helped a lot."
Barber did not allow a hit for the last two innings.
"He was around the zone," Rasmussen commented. "He wanted to battle, and he wanted to compete."
R-H loaded the bases with one out in the seventh before Casimer Sobaszek worked a full count walk to score the first run of the inning.
"We talk all the time about having good at bats and being tough outs, and the last two innings we actually started to do that," Rasmussen explained. "Ultimately, that's what allowed us to put runners on base."
Barber followed with an infield single to tie the score. When the ball was mishandled, Jason Bocklage scampered home from third with the winning run.
"That's the kind of a win that we've needed to have for a while now," Rasmussen said. "We've been right there, right on the verge in several games with chances late in the game, and things didn't work out. For us to come back in the seventh inning there and to put three runs across was a step that we needed to take if we're going to do what we set out to do at the beginning of the season."
JoJo Ortiz reached base three times in the game. The Royal Comets center fielder doubled and scored in the first. He later singled and walked.
Sobaszek and Justin Varney also collected two hits apiece.
VIEW MORE SUE KANE KANE PHOTOS HERE.
Buss started and hurled six innings for Fairport. The senior left-hander worked out of jams in the third and sixth innings before leaving with the lead.
"He didn't have his best stuff today," Fairport coach Brian Reed said. "We could see that he was running out of gas, but he kept battling through it. When you're a pitcher you know if you don't have your best stuff, you got to go and do your best out there. Matt did that."
Fairport took the first meeting between the two teams, 6-4. 
R-H improves to 9-9 (3-5 MCD1) with the win. The Royal Comets hosts Webster Thomas on Wednesday.
Fairport falls to 12-6 (4-4) with the loss. The Red Raiders play at Victor on Wednesday.