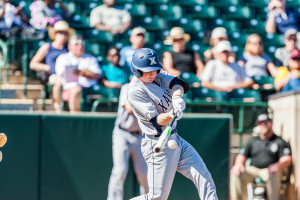 Courtesy of GoXavier.com
SOUTH ORANGE, N.J. – Xavier baseball finished off its second straight BIG EAST sweep on Saturday, winning game three of a weekend series at Seton Hall, 10-6, at Owen T. Carroll Field.
XU improves to 22-26 overall and 9-3 BIG EAST and has now won three consecutive weekend series – including back-to-back sweeps on the road against Butler and Seton Hall. It's the first time XU has taken three straight series since 2011 when the Musketeers polished off UMass, St. Bonaventure and Dayton in succession.
The victory also gives the Musketeers an eight-game winning streak, the team's longest since a nine-game spurt from March 6-18, 2011.
Seton Hall fell to 31-17 overall and 5-7 in league play.
XU AT THE PLATE
· Four Musketeers put up multi-hit performances as XU tallied 14 hits total – its most in BIG EAST play thus far this season.
· XU scored in double digits for the second time today and the third time in league action. It was the seventh time this season XU has scored at least 10 runs.
· Dan Rizzie (3-for-4, 2 R, RBI) paced the offense with his team-leading 16th multi-hit game.
· Joe Gellenbeck (2-for-5, 2 R, RBI), Andre Jernigan (2-for-5, 2 RBI), Chris Givin (2-for-4, R, HR, RBI) and Will LaRue (2-for-4, 2 R) all had multi-hit days for the Musketeers.
· Roger Danison (1-for-2), David Morton (1-for-3), Sam Flamini (1-for-1, RBI) and Matt Fallon (1-for-3) each recorded hits as well.
XU ON THE MOUND
· Trent Astle (3-4) picked up his second consecutive win and now has a 2.25 ERA in two BIG EAST starts (12 IP, 3 ER).
· Jason Hall picked up two outs in the ninth before running into trouble, but Trey Schramm was able to close the door by getting a ground out to keep the score 9-5 after SHU picked up three in the eighth.
· Schramm pushed his personal scoreless streak to 13 consecutive innings by recording the last out in the eighth. The freshman righty has yet to allow a run in seven innings of work during BIG EAST play.
· Garrett Schilling came on to pitch the ninth, allowing one run before nailing down the win.
HOW XU SCORED
FIRST INNING: Rylan Bannon reached on an error to lead off the game, advancing to second on a single by Dan Rizzie. Joe Gellenbeck then singled through the right side to load the bases. Bannon scored on a wild pitch before an RBI infield single by Andre Jernigan to bring in Rizzie. Nate Soria batted next and grounded into a double play, which scored Gellenbeck to make it 3-0.
SECOND INNING: Will LaRue began the inning with a single to right, advancing to second on a sacrifice bunt by David Morton. After stealing third, LaRue came around on a fielder's choice by Rylan Bannon. Dan Rizzie followed with a single, moving Bannon around to third. Bannon would then score on a wild pitch for the second straight inning. Joe Gellenbeck batted next and doubled to left to plate Dan Rizzie. Andre Jernigan capped the scoring in the frame with an RBI single to left, bringing Gellenbeck in to score and making it 7-0.
THIRD INNING: Chris Givin led off the inning with a solo shot to left and Will LaRue followed with a single up the middle. David Morton then singled to right, moving LaRue up a bag. A double steal put runners on second and third before Rylan Bannon worked a walk to load the bases. Dan Rizzie then lifted a sacrifice fly to center to score LaRue and make it 9-0.
NINTH INNING: After SHU got five back in the seventh and eighth, Xavier added an insurance run in the ninth when Sam Flamini singled through the left side to score Ethan Schmidt.
UP NEXT
· Xavier hosts Northern Kentucky on Tuesday, May 10 at Hayden Field. First pitch is set for 3 p.m. ET.