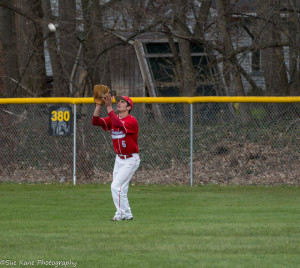 By PAUL GOTHAM
ROCHESTER, N.Y. — When it was over, Connor Ewing's only concern was whether he needed stitches or not.
Fairport's senior starter pitched through off and on raindrops, bounced back after losing a no-hitter late in the game and watched as a teammate was taken from the field.
All those paled in comparison to the split lip he received during batting practice when a ball of a bat hit him in the face.
Despite the distractions the right-hander tossed a 4-hitter, and Fairport handed Webster-Schroeder its first league loss of the season, 3-2.
"That is Connor's personality," Fairport coach Brian Reed said of his starter. "Connor does stay focused like that. He's mentally strong. He fights through those kinds of things. I'm not surprised to see it from him."
Ewing retired the first 16 batters he faced including four in the fifth inning after a dropped third strike.
"He was locating his fastball," Reed explained. "He was keeping it down. His breaking pitch was working today. When the ball got wet, it was a little harder to throw his breaking stuff, but he managed to fight through it."
The right-hander struck out six – four in the first five innings and retired another eight batters on ground balls through those first five frames.
"He got ahead, and he got ahead early with his fastball," said Ewing's battery mate Christian Rizzolo. "He was down with his fastball. Occasionally he would throw his breaking ball. He had complete confidence in his team."
"The first time through the lineup we didn't want to throw that many (breaking balls)," Ewing said. "Just didn't want to show them everything I had. Once we got into the second time through the lineup, we started mixing it in."
Ewing gave his offense time to get going.
Rizzolo got Fairport on the scoreboard in the third. After walking in his previous at bat, the senior catcher plated teammate Chad Riorden with a two-out RBI single to right center.
"I'm glad I got to see him in the at bat before," Rizzolo said of Webster Schroeder starter, Nick Lawlor. "I was able to see all his pitches. I knew early in the at bat he likes to go off speed. I wanted to leave that and jump on his fastball."
Mike Sabatine led the fourth inning with a single up the middle and stole second. Tim Gaudioso handcuffed Webster third baseman Phil Ferranti with a hard hit ground ball, and Sabatine scored from second.
"He threw against us the game when they beat us 4-0," Gaudioso said recalling an earlier loss to Webster when Lawlor pitched six innings. "I knew from those at bats as soon as he got ahead, he was going to the breaking ball. He got ahead of me o-and-2. I fouled off a couple breaking balls. I knew it was coming again, so I sat back on it and tried to get in play. Down and hard somewhere."
Jake Rugaber made it 3-0 when he brought home Gaudioso with  a two-out single to left.
Lawlor broke up the no-hitter with a leadoff double in the sixth. One out later, Justin Graham plated Webster's first run of the game with another double.
Ewing got out of the inning with a pair of fly balls.
Webster loaded the bases with two outs in the seventh. Ferrranti singled. Joshua Simons walked, and Lawlor picked up his second hit of the game.
It appeared Ewing had ended the threat with a ground ball to shortstop Sam Gueli, but Lawlor was ruled safe at second and Ferranti scored. Riorden, the Fairport second baseman, was injured on the play taking the toss from Gueli. He left the game on his own power.
"When Chad got hurt, we had some time to talk out there," Ewing said. "This is probably our biggest game of the season so far. We just said 'let's get this kid. Let's go home with the win.'"
Lawlor, pitching on three days' rest allowed three runs (one earned) on six hits and two walks.  The right-hander struck out three. Lawlor threw a 3-hitter in Webster's 5-0 victory over Churchville-Chili, Monday night.
Fairport improves to 12-5 with the win.
Webster falls to 13-4.