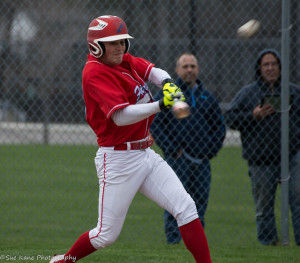 By PAUL GOTHAM
FAIRPORT, N.Y. — Matt Johnson wasted little time. Fairport's senior starter found the strike zone early and often in a dominant performance.
Johnson tossed a 5-hitter and Fairport defeated Gates Chili, 7-1 in Monroe County League action, Thursday afternoon.
The right-hander struck out six and walked one as the Red Raiders improved to 11-5 on the season with their fourth straight win.
"He set the tone right away," Fairport coach Brian Reed said. "He established all of his pitches. That's Matt's kind of game. That's the way he pitches."
Getting four ground ball outs and two on strikes, Johnson retired eight straight from the end of the second through the fifth.
"Mike calls a great game back there," Johnson said referring to his battery mate, Mike Perlo. "We were just moving in and out. Two-seamer kinda goes away from the lefties, so that's effective. You can get them to roll over on it. Slider and curve to the righties you got them breaking away, so they're going to roll over or swing over the top of it."
He finished the game with 11 ground ball outs and four fly balls.
"I was trying to focus on throwing strikes," Johnson said. "I know to let them put the ball in play because I know my defense will make the plays behind me. That's what I did."
Four of the infield plays came courtesy of Tim Gaudioso. Fairport's third baseman put his game on display in the fourth with back-to-back plays from the hot corner including a barehanded grab off the infield grass before beating the runner with a throw across the diamond. In the sixth, Gaudioso ranged into the hole between short and third to make another play.
"He made some great plays," Johnson said of his teammate. "I'm much more relaxed on the mound when I know the guys behind will make the plays."
Gates-Chili scratched a run across in the second inning. Jon Preston reached on an infield single when Johnson tried to barehand a bouncing ball up the middle. Preston moved to second on a ground out and scored when Tanner Pettit's flare found a patch of grass among three Fairport fielders.
"That's just baseball," Johnson said. "That's how it works. I took the next hitter. I know to throw strikes and get the guys back into the dugout and score some runs."
Fairport responded quickly sending eight to the plate in the bottom half of the stanza.
Jake Rugaber highlighted the four-run frame when he drove in two with a double inside the bag at third.
"He hit that ball real hard," Reed stated. "He jumped all over it and nailed it."
Rugaber turned on the first offering from Gates-Chili starter, Hunter Greenfield and brought home Perlo and Sam Gueli.
"Hitting out of the nine spot I'm expecting to get a lot of fastballs," Rugaber explained. "I got one and took the opportunity and did something with it."
Chad Riorden followed with an RBI bloop single to center, and Fairport led 4-1.
Fairport added three insurance in the fifth. Matt Buss plated Evan Newkirk with an opposite field double. After Gaudioso reached on an error, Perlo singled to right center scoring Buss. Gaudioso scored when Gueli also reached on an error.
Fairport hosts Webster Schroeder on Friday. A 4:30 p.m. first pitch is scheduled.
Gates-Chili travels to Spencerport.