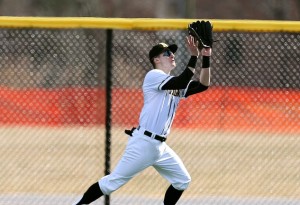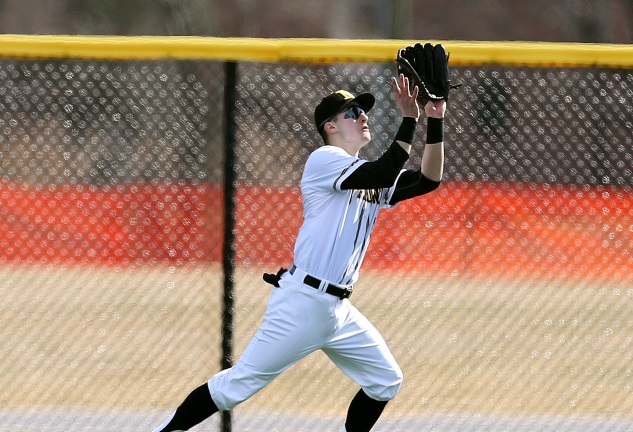 By PAUL GOTHAM
ROCHESTER, N.Y. — A final tuneup before returning to conference play found the Monroe Community College Tribunes clicking on all cylinders.
Colin Johnston (Greece Athena) tossed a 3-hitter, and the Tribunes took two from Onondaga Community College (3-1/11-1) in NJCAA action, Tuesday afternoon.
Johnston fanned five and walked one for his sixth win of the season.
"He came out throwing strikes," Monroe coach Dave Brust said. "He was taking advantage of his sinking fastball and getting ahead of batters, getting to o-and-one consistently."
Over five innings of work, the freshman right-hander induced eight ground ball outs and two fly ball outs. He allowed just one ball out of the infield after the second stanza.
"The two-seam always sinks or runs," Johnston explained. "When it's running in on them, it's hard to hit. I try to spot it outside on o-and-two to get that strike three call."
Monroe sent 10 to the plate and took a commanding 7-0 lead in the third inning.
Braden Passmore (Rush Henrietta) sparked the rally with a leadoff ground-rule double to center field.
"I was thinking first pitch fastball,"  the sophomore designated hitter said. "That's what he gave me, belt high right down the middle. I was thinking middle of the field or middle away. That's what I got."
Matt Brooks (Auburn) followed with an RBI base hit to left field. Alex Saville (Vernon-Verona-Sherrill) singled down the third base line. After Connor Lewis (St. Marguerite d'Youville) moved the runners with a sacrifice bunt, Johnny Ricotta (Greece Athena) delivered a two-run double to right center – his second two-bagger of the day.
Luke Brust (Honeoye Falls-Lima) capped the inning with his third home run of the season – a two-run shot to right field.
"It was a 3-0 count," the sophomore centerfielder said. "Worst case scenario if I hit a fly ball, it scores a run on a tag up. I just got a hold of it and it left the yard."
It was the second straight at bat where Brust used the opposite field as he laced a single to right in the second.
"He had a good curve ball," Brust said of OCC starter, Nick Claver. "So I sat on it, and he hung it. I just tried to poke it to the right side."
Ricotta and Anthony Santoro (Henninger) collected an RBI apiece in the fourth. MCC led 9-0.
Brooks knocked in another with a sacrifice fly, and Lewis ended the night cap with an RBI base hit.
Alex Bellardini (Elmira Free Academy) started and pitched into the sixth inning of game one for his longest outing of the season. After surrendering a double and bunt single to start the second inning, the 6-4 right-hander allowed just an excuse-me single over the next three frames.
"He was in complete command out there," Dave Brust said of his starter. "'Bell' has plus-baseball IQ and knows how to attack hitters."
Ricotta doubled home Saville in the first for a 1-0 MCC edge.
Ryan "Bubba" Boutelle (Gowanda) drove in the game winner with a two-out bunt in the sixth.
"'Browny' gave me the bunt for a base hit as a suggestion," Boutelle said referring to third-base coach Cory Brownsten. "I could have swung away but I read that the third baseman was was playing pretty deep."
Ricotta started the rally with a one-out walk. Santoro was hit by a pitch. One out later, Luke Brust loaded the bases when he reached on an error. With the infield back, Boutelle took advantage.
"The pitcher wasn't getting off the mound that quickly, so I just thought I could beat it," the freshman outfielder noted. "I got lucky enough to lay down a pretty good bunt."
"The third baseman had to come a long way to make that play," Dave Brust noting the depth of the infield defense. "He had no shot of making the play at the bag."
On the day, Monroe's infield turned four double plays while committing just one error.
"When you see a ground ball off the bat it's like the confidence of an out at least one," Johnston said of the infield."I just try to keep it low because of the infield. They will make the plays."
Monroe improved to 26-12. The Tribs have won nine straight and 15 of 16 games.
Monroe hosts Mercyhurst NE this weekend. The two close Region 3 Division II regular season play with a pair of games Saturday and one on Sunday. A 1 p.m. first pitch is scheduled Saturday.