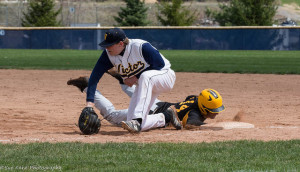 PITTSFORD SUTHERLAND 5 BRIGHTON 2
The Sutherland Knights got another solid pitching effort from Jack Zielinski Wednesday in a 5-2 victory over Brighton at Sargent Field in Pittsford. Zielinski pitched a complete game with one earned run allowed and six strikeouts. The win is Zielinski's third of 2016.
The score was tied 0-0 through two, but in the bottom of the third Sutherland got on the board. The Knights loaded the bases and first baseman Sam Kistler delivered a clutch single scoring Nate Richardson, who singled and Alec Vaules who was hit by a pitch.
Brighton battled back by scoring one in the fourth and one in the fifth to tie the game at two. Sutherland put the Barons away for good in the fifth with three runs courtesy of a bases loaded walk to Daniel Green and a misplayed Will Groark groundball that scored Kistler who was hit by a pitch and Zielinski who singled.
Vaules had two hits and a run scored to pace the offense.
Sutherland is now 11-5 and 5-1 in Division 2. ​
GATES-CHILI 2 CHURCHVILLE-CHILI 0
Junior Stephen Fiammi allowed one hit over six innings for G-C.
Billy Sanborn had two hits for Churchville.
Gates is 3-11. Churchville is 7-9.
VICTOR 3 RUSH-HENRIETTA 0
Victor scored twice in the second inning using a lead off walk and back-to-back hits by Nick Varone and Aaron Schlarbaum with two outs. Victor added another run in the fifth inning when Ryan Simmons led the inning with a single and scored later in the inning on a throwing error. Victor played error free defense for the second straight game and received a strong pitching performance from Simmons. The senior right-hander pitched a complete game shutout, striking out six to pick up his second league win of the season. Schlarbaum was 3-for-4 with an RBI. Simmons finished 2-for- 4.
Victor is 3-3 in league and 5-10 overall. RH is 2-4 and 7-7.
Victor will travel to Webster Thomas on Friday for a league game at 4:30.
FAIRPORT 10 PENFIELD 5
Jake Rugaber collected two hits and two RBI as Fairport improved to 10-5 on the season. Sam Gueli finished 2-for-3 with a walk, run scored and RBI, and Mike Perlo added a hit as the bottom third of the batting order supplied half of Faiport's 10 hits. Matt Buss struck out three over 5.2 for the win. TJ Lucey scored twice and drove in a run with two hits. Fairport hosts Gates-Chili, Thursday afternoon. Penfield hosts Brockport also on Thursday.
GREECE ATHENA 12 SPENCERPORT 3
Trevor Layne and Justin Bunting collected three hits apiece. Justin LoTemple, Dom DiStefano and Mike Putman added two base knocks each. Mark Bendert notched the win with a complete game 5-hitter.
HILTON 5 BROCKPORT 4
Brent Turpyn delivered a walk-off hit as the Hilton Cadets avenged an earlier loss to Brockport. READ MORE.
WEBSTER SCHROEDER 12 WEBSTER THOMAS 8
PITTSFORD MENDON 13 IRONDEQUOIT 0
CANANDAIGUA 10 HONEOYE FALLS-LIMA 1