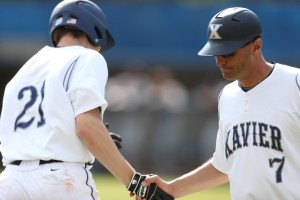 Courtesy of GoXavier.com
INDIANAPOLIS, Ind. – Three pitchers combined to hold Butler to just one unearned run as Xavier baseball took game two of its weekend series at Butler, 4-1, on Sunday at Bulldog Park.
With the win, XU improves to 18-26 (5-3 BIG EAST). Butler falls to 12-30 and 3-8 in league play.
XU AT THE PLATE
· Rylan Bannon (2-for-3, 2 R) and David Morton (2-for-4) paced XU with multi-hit efforts at the plate.
· Dan Rizzie (1-for-4, R), Joe Gellenbeck, (1-for-3), Andre Jernigan (1-for-2) and Will LaRue (1-for-4) also collected hits for Xavier.
· Rizzie extended his team-leading hitting streak to five consecutive games.
XU ON THE MOUND
· Matt Kent (2-1) continued to impress in his third turn as a weekend starter, throwing five innings and allowing just one unearned run. The freshman struck out four and scattered four hits to pick up his second straight win.
· In BIG EAST play, Kent has made three starts and recorded a 1.12 ERA in 16.1 innings. His 0.79 ERA overall leads the team.
· After getting the win last Sunday against St. John's, Kent has now helped clinch two straight series with wins on the mound for Xavier.
· Trey Schramm pitched two scoreless innings in relief of Kent, lowering his ERA to 3.65 on the year. The freshman righty struck out two. He has not allowed an earned run since April 2 at Illinois State (12.2 innings).
· Garrett Schilling picked up his ninth save of the season, entering in the eighth inning with two on and no outs. The sophomore coaxed a big double play and then got a fly out before working around two hits in the ninth to close the door.
· With his ninth save, Schilling moves into a tie for fourth in XU single season history.
· Schilling has now earned the win or the save in each of Xavier's last four games.
HOW XU SCORED
THIRD INNING: Rylan Bannon got things started with a one out double down the left field line, advancing to third on a single by Dan Rizzie. Joe Gellenbeck batted next and lofted a sacrifice fly to right field to bring Bannon in to score. One batter later, Andre Jernigan tripled to right center to score Rizzie and make it a 2-0 lead.
EIGHTH INNING: Rylan Bannon worked a leadoff walk and moved to second on a sacrifice bunt by Dan Rizzie. Batting next, Joe Gellenbeck singled to right to put runners on the corners. After Andre Jerniganwas plunked, Nate Soria lifted a fly ball to right to score Bannon and make it 3-0.
NINTH INNING: David Morton singled with one out, moving to second on a balk before getting thrown out on a fielder's choice play. Rylan Bannon followed with an infield hit, advancing Matt Fallon to third. Fallon then came around to score on a failed pickoff throw by Butler's pitcher.
Game Two Recap:
Soria Knocks in Three as Xavier Completes Weekend Sweep At Butler, 4-1
INDIANAPOLIS, Ind. – Xavier baseball completed its weekend sweep of Butler, getting five strong innings fromTrent Astle and three RBI from Nate Soria to win 4-1 on Sunday at Bulldog Park.
With a fifth straight win, XU improves to 19-26 (6-3 BIG EAST). Its the third weekend sweep of the season for Xavier and the first in BIG EAST play for the team since April 11-13, 2014 against Villanova.
Butler fell to 12-31 overall and 3-9 in league play.
XU AT THE PLATE
· Nate Soria paced XU offensively with a 2-for-4 day, including a double and three RBI. The sophomore is hitting a team-best .355 (11-for-31) with 2 homers and seven RBI in BIG EAST action.
· Chris Givin reached base in all four of his plate appearances, going 2-for-2 with an RBI and drawing a pair of walks.
· Dan Rizzie (1-for-5, R, 2B), Andre Jernigan (1-for-2, 2 R) and Matt Fallon (1-for-4) also collected hits for Xavier.
· Rizzie now has at least one hit and one run scored in each of his last six games.
XU ON THE MOUND
· Junior Trent Astle (2-4) turned in his best start of the season, limiting Butler to two hits and striking out one over five innings of one-run ball.
· Damien Richard and Taylor Williams combined to pitch four innings of scoreless relief. XU's bullpen finished the series allowing just one earned run in 10 innings, including 8.1 consecutive scoreless innings to end the weekend.
· Richard worked around a pair of hits and a walk to post two scoreless innings. The sophomore righty lowered his ERA to 2.16 in 25 relief innings this season.
· Williams earned his first career save, pitching the final two innings and striking out one.
· Xavier's pitching staff finished the weekend with a 1.00 ERA (27 IP, 3 ER) covering all three games.
HOW XU SCORED
FOURTH INNING: Joe Gellenbeck reached after getting plunked with one out, moving to second on a single by Andre Jernigan. Nate Soria followed with a double to left, plating both and giving Xavier a 2-0 lead.
FIFTH INNING: Dan Rizzie doubled down the left field line with one out before Andre Jernigan worked a two out walk. With two on and two out, Soria came up big with a single to left center to score Rizzie. Chris Givin followed with a bunt single to plate Jernigan and make it 4-0 Xavier.