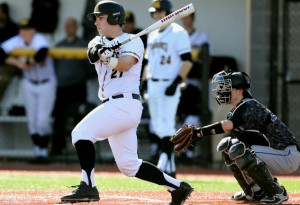 By PAUL GOTHAM
The number of games may have been limited, but the Monroe Community College baseball team made the most of their opportunities in the month of April. Two doubleheaders sweeps in the final week left coach Dave Brust evaluating his team's play based upon a tougher scale than wins and losses.
"It doesn't matter who we play," Brust said. "It just matters how we play."
That expectation was evident when the Tribunes defeated Utica JV (15-3/11-0) and Jefferson Community College (14-5/13-3) to close the month with a record of 19 wins and two losses. Monroe has won seven straight and 13 of its last 14 games.
"The freshmen have matured," Brust noted. "I think the sophomores have matured. It's more of a businesslike approach. That's what we want out of our guys."
Connor Hurst (John Fraser) struck out five and walked two over five shutout innings for his second win of the season in MCC's 11-0 victory over Utica JV.
"Connor pitched very well," Brust said.  "As a freshman, he went in and threw strikes, did the things that he is very capable of doing."
The left-hander scattered five hits.
Alex Saville (Vernon-Veron-Sherrill) worked a scoreless inning in relief.
Johnny Ricotta (Greece Athena) sparked a five-run third with a two-out, two-run double.
Luke Brust (Honeoye Falls-Lima) and Nick Ficarella (Churchville-Chili) also drove in runs during the inning.
Monroe added six runs in the sixth.
Ricotta finished the game 3-for-4 with three RBI and two runs scored.
Ficarella drove in two with two hits and scored twice.
Tyler Riehl (Resurrect Catholic) allowed three runs on six hits for his third win of the season in Monroe's opening game victory.
Ryan "Bubba" Boutelle (Goawanda) singled home a pair of runs in a seven-run third as MCC erased a 3-1 first inning deficit in the opening game win.
Saville drove in two runs with two hits and scored twice.
Collin Stack (Maple Grove) tripled, plated two, reached base three times on walks and scored three runs.
Ricotta capped the weekend with his second home run of the season – a grand slam in Monroe's 13-3 victory over Jefferson CC.
"The grand slam was a typical Johnny Ricotta at bat," Brust stated. "I don't think he ever steps up to the plate with expectations, and that's what makes him such a solid hitter. He just tries to hit the ball hard, and he is exceptional when guys are on base."
Ricotta finished Saturday with four hits in six at bats with seven RBI and three runs scored.
Saville collected six hits, seven RBI and scored four runs.
Braden Passmore (Rush-Henrietta) finished game two 2-for-3 with two RBI, two runs scored and a walk.
Zach Vennaro (New York Mills) improved to 7-0 with a win in the opener. The right-hander struck out five and walked none.
Luke Tomczyk (Churchville-Chili) ran his record to 4-2. He fanned nine and issued two base on balls.
Monroe had a pair of doubleheaders cancelled against Lakeland CC earlier in the April because of inclement weather. Two games against Herkimer CC were also postponed.
The Tribunes finished 18-6 in the month of April a year ago.
MCC hosts Onondaga Community College on Tuesday, May 3rd. A 1 p.m. first pitch is scheduled at Tribune Field.
Box Score: Monroe CC 15 Utica JV 3
Box Score: Monroe CC 11 Utica JV 0
Box Score: Monroe CC 14 Jefferson CC 5