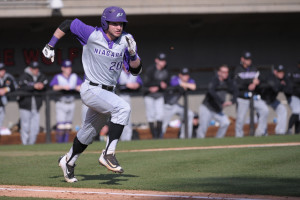 Courtesy of PurpleEagles.com
NEW ROCHELLE, N.Y. – The Purple Eagles baseball team swept a doubleheader with the Iona Gaels on Saturday.
"We've been talking a lot about sticking to our process and trusting our training," said Niagara head coach Rob McCoy. "We've worked hard in preparation. Today we showed how well we can play when we stay relaxed and work the process. I'm proud of these guys for having the courage to trust themselves and their teammates. We're getting incrementally better as a program and it's fun for us coaches to watch the development. As always, we need to have a short memory and get back at it tomorrow."
Game 1: Niagara 18, Iona 5
Niagara (14-26-1, 9-8 MAAC) got off to an early lead in what would become one of its biggest wins of the season. In the top of the fourth inning Julian Gallup singled to left field, scoring Darian Blanks and Joel Brophy, who were already on base, advancing Tanner Kirwer and earned two of his team-high RBIs. A fly out to center field from Greg Cullen scored Kirwer, giving the Purple Eagles a 3-0 lead over the Gaels (8-30, 2-12 MAAC).
In the top of the fifth, Geoff Seto doubled to left center to send home Christian Vangeison. Joel Brophy had his first of a team-high two doubles to score Seto and put the Purple Eagles up 5-2. Scores from Gallup, Greg Cullen, Greg Rodgers, Michael Fuhrman and Brophy extended the Purple Eagles' lead to 10-2 going into the bottom of the sixth.
In the bottom of the sixth, the Gaels cut Niagara's lead in half, 10-5, but six runs from the Purple Eagles in the top of the seventh stymied Iona's comeback.
Fuhrman led Niagara at the plate, going a perfect 2-for-2 and scoring two runs; Fuhrman was one of eight Purple Eagles to score two runs in game one. On the mound, Zachary Kolodziejski (3-5) struck out five batters in his 6.0 innings pitched. Liam Stroud pitched the final three innings, allowing only one hit and earning the save.
Game 2: Niagara 1, Iona 0
In the top of the eighth inning, with Kirwer on base, Gallup doubled to left center, scoring Kirwer for the first, and only, run of the game.
Gallup had a team-high two hits as well as one RBI. Matt McCuen (3-4) did not allow any hits in his 2.0 innings pitched; he earned the win for the Purple Eagles.
Niagara closes out its three-game series with Iona on Sunday, May 1 with first pitch at 10:00 a.m.