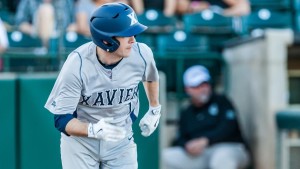 Courtesy of GoXavier.com
NDIANAPOLIS, Ind. – David Morton (Cincinnati, Ohio/Turpin) singled off the bench in the ninth inning, breaking a 1-1 deadlock and helping Xavier baseball to a third straight BIG EAST win, 6-2, on Friday at Butler's Bulldog Park.
The senior came on to pinch hit with two outs in the ninth and the bases loaded, working a 1-2 count before sending a looping single into shallow right center to score two runs. Two batters later, Rylan Bannon cleared the bases with a looping single of his own – completing a five-run rally, which broke open a game that had been tied since the fifth.
With the win, XU improves to 17-26 (4-3 BIG EAST). Butler falls to 12-29 and 3-7 in league play.
XU AT THE PLATE
· Chris Givin (3-for-4, R, 2B) put together a season-high three hit performance at the plate. It was his seventh multi-hit game of the year.
· Xavier also got hits from Rylan Bannon (1-for-5, 2 RBI), Dan Rizzie (1-for-5, R, 3B), David Morton (1-for-1, R, 2 RBI) and Matt Fallon (1-for-3, R).
· Joe Gellenbeck worked one of Xavier's four walks and lofted a sacrifice fly in the first inning, scoring Dan Rizzie and recording his 30th RBI of the season.
· Fallon has now reached base in nine straight games.
· Rizzie's first inning triple was his first of the season and third of his XU career.
XU ON THE MOUND
· Zac Lowther lasted seven innings, allowing just one run and striking out four in another solid start.
· Lowther pitched seven innings for the fifth time this season and has now gone at least five innings in all 11 of his starts.
· Taylor Williams came on in the eighth, getting a strikeout before allowing a pair of hits.
· Garrett Schilling (1-3) picked up his first career win, pitching the final 1.2 innings and striking out one. He allowed just one run in the ninth on a sacrifice fly.
· Schilling escaped a two on, one out jam in the eighth by coaxing a double play ball to short. Andre Jernigan made a slick play on the grounder, tagging second unassisted before getting the runner at first by a half-step.
HOW XU SCORED
FIRST INNING: Dan Rizzie tripled to left center, setting up a sacrifice fly to right by Joe Gellenbeck to make it a 1-0 Musketeer lead.
NINTH INNING: After back-to-back outs to begin the frame, Xavier began a rally with a walk by Nate Soria. Batting next, Chris Givin singled to right on a hit-and-run play to put runners at the corners and chase Butler starter Nick Morton. Will LaRue then walked to load the bases, bringing on David Morton's pinch hit single to score a pair. Matt Fallon batted next and worked a walk to re-load the bases for Rylan Bannon, who lifted a single just over the shortstop's head in center to plate two more. Fallon would come around to score on the play after a throwing error by the centerfielder.
UP NEXT
· Xavier plays game two of the series against Butler on Saturday at Bulldog Park. First pitch is scheduled for 1 p.m. ET.