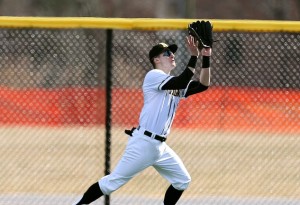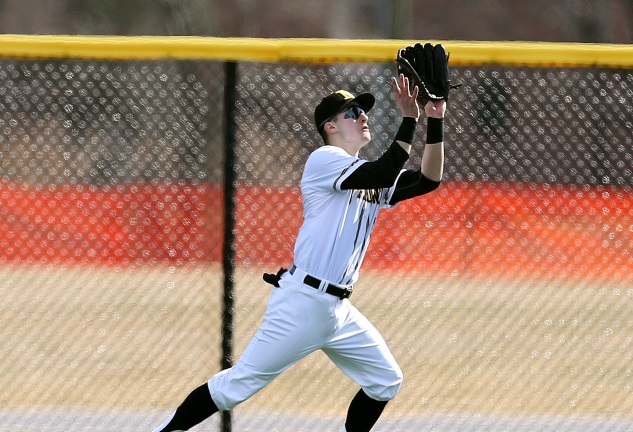 By PAUL GOTHAM
NORTH EAST, PA. — The Monroe Community College men's baseball team will get a day off on Monday. Their bats might enjoy the rest.
Monroe pounded out 17 hits to cap their first weekend of conference play with a convincing 18-7 victory over Mercyhurst NE at Phillip D. Hirtzel Field, Sunday.
"I was pretty happy with today's performance," Monroe coach Dave Brust said. "It's proof of their ability which is why they need to be held accountable when they don't play to their ability."
A quartet of Tribunes collected three hits apiece and keyed a decisive seven-run third inning.
Matt Brooks (Auburn) delivered a two-out, two-run triple as MCC grabbed a 10-2 lead and never looked back.
"I was just going in there pretty fired up," Brooks commented. "We got a few hits before. I was just trying to shoot that gap again, get the runs in and keep it rolling from there. It really fired the team up. Two-out hits are huge."
Brooks connected on the fourth straight two-out hit as Monroe sent 11 to the plate in the inning.
Alex Saville (Vernon-Verona-Sherrill), seeing his first action in the field this weekend after being sidelined nearly ten days with a hand injury, reached on hit by pitch to start the stanze. After a stolen base, Connor Lewis (St. Marguerite d'Youville) got the rally going with a run-scoring single to left field.
Two outs later, Luke Brust (Honeoye Falls-Lima) reignited the charge with an RBI single through the left side of the infield.
"I got lucky," Brust stated. "There were runners on base. I know that as a team we need to capitalize on that. Kid was throwing pretty well. He had some deceptive stuff, so I just tried to poke it through the middle and it ended it up slipping past the third and shortstop and got the run in. As a team we just did a great job of doing that the whole day. That's why we scored 18 runs."
Collin Stack (Maple Grove), who also returned to the lineup this weekend after an injury, finished 3-for-5 with three doubles and three RBI.
"Missing the entire week against Finger Lakes was tough," the sophomore third baseman said. "Somehow I managed to get back into my rhythm and kept swinging the bat well and making good contact. Just seems to be landing in open spots."
Stack doubled home Anthony Santoro (Henninger) from first base on two occasions and brought home another run in the sixth with an infield ground out.
"Stack is a big part of our offense," Dave Brust noted. "It's significant in that he's a guy you got to be careful with. He's a guy you deal with at some point. You can't pitch around a guy here or there with him in the lineup. Stack, also, has that experience of playing against Mercyhurst, playing on a grass field."
With Saville back at second base, Monroe turned double plays in the first and fourth innings.
"What I thought was huge was and it doesn't always show up in the score book was having Alex Saville's defense in the middle of the field," Dave Brust explained. "His leadership in the middle of the field. He makes the double play just look so easy.
"He had good at bats. They don't show up in the score book, but he had good at bats. The layoff hurts guys a little bit, plus it's a hand injury. If I know Alex like I think I know Alex, it's not 100 percent. But in his mind it is. That kid is not going to miss a conference game unless it's a broken bone."
Colin Johnston (Greece Athena) started and went five innings for the win. The freshman hurler struck out three and walked one for his fourth win of the season.
"His experience in Arizona and getting beat up a little bit there helped him mature," Brust said.
Lucas Godlewski (Little Falls) came out of the bullpen and tossed three shutout innings before allowing a pair of inconsequential runs in the ninth.
"Our getting through to them with 'getting hit is okay' is paying off," Brust said. "Getting hit that's just good baseball. But not walking guys and not having bad body language that's something that they had to mature through. Both of those guys did a great job with that."
The outing was the longest of the season for Godlewski who tossed a scoreless inning at Genesee CC last week before allowing three runs on four hits in the next inning. The 6-4 right-hander transferred to MCC between semesters.
"We all knew he could pitch, and now we're seeing it," Brust stated. "He really was not pitching all fall and not on a weight program. He was really out of baseball for the most part. It took him a while to get in shape physically, get in shape mentally, make the transition to a different program. He needed just a little patience."
Johnny Ricotta (Greece Athena) and Stack both finished 3-for-4 with an RBI as the Tribunes banged out 15 hits in a 9-8 triumph Saturday.
Zach Vennaro (New York Mills) struck out five over 6.2 innings for his sixth win of the season.
Alex Bellardini (Elmira Free Academy) struck out three over an inning and two-thirds of shutout ball.
Luke Tomczyk (Chruchville-Chili) worked two-thirds scoreless for his third save of the season.
Stack finished the weekend 6-for-9 with a walk, four RBI and four runs scored.
Brooks had five hits including two doubles, two triples, a walk, three RBI and two runs.
Luke Brust collected five RBI on four hits and scored four times.
Ryan "Bubba" Boutelle (Gowanda)  drove in four with four hits and scored twice.
Santoro went 4-for-7 with two walks and six runs.
Michael Pringle (Pittsford Sutherland) had three hits, three RBI and two runs scored.
Monroe improved to 20-12 and won their third straight after dropping the opener of a doubleheader to FLCC in disappointing fashion on Thursday.
"It shows how fragile it can be if you don't do all the little things," Brust said. "We always remind them that you can't do the big things unless you do the little things."
Monroe travels to play a doubleheader against Utica JV on Thursday. A 1 p.m. first pitch is scheduled.