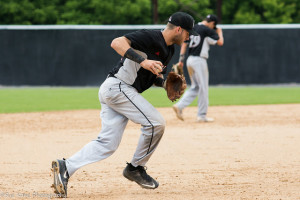 Courtesy of GoBonnies.com
ST. BONAVENTURE, N.Y. – St. Bonaventure University head baseball coach Larry Sudbrook has announced the signing of David "Bubba" Hollins to a National Letter of Intent to join the Bonnies in Fall 2016.
An infielder from Orchard Park High School, Hollins is in his second season playing for St. Petersburg junior college in Florida. Thus far this spring, he has hit .345 with nine home runs and 32 RBIs for St. Petersburg. Last season, he hit .262 with 24 RBIs in 40 games.
An All-State selection while playing at Orchard Park, Hollins was drafted by the Detroit Tigers out of high school in the 35th round of the 2014 MLB Entry Draft.
Last summer, Hollins was a member of the New York Collegiate Baseball League (NYCBL) champion Olean Oilers, hitting .340 with two home runs and 32 RBI.
"We are excited to have a guy of his skill set and work ethic coming to our program," St. Bonaventure head coach Larry Sudbrook said. "We return a lot of key players next year and he's a guy who can bat in the middle of the lineup and apply some offensive punch."
Earlier this spring, Hollins hit four home runs in a single game for St. Petersburg against South Florida State College. He was named Player of the Week in the Florida College System Athletic Association which represents the five junior college conferences in the state.
Hollins is the son of Dave Hollins who played in the majors for 12 seasons, most notably with the Philadelphia Phillies from 1990-95. He also played for Boston, Minnesota, Seattle, Anaheim, Toronto and Cleveland during his major league career.