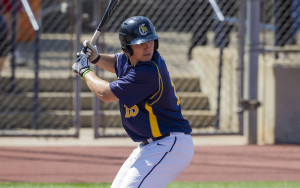 Courtesy of GoGriffs.com
BUFFALO, N.Y. – The Canisius baseball team plated two runs in the top of the 12th inning, as the Griffs outlasted Buffalo, 3-1 at Amherst Audobon Field on Tuesday afternoon. With the win the Blue and Gold improved to 18-18 overall while Buffalo falls to 11-21.
After relinquishing its 1-0 lead in the bottom of the seventh, Canisius finally regained the advantage in the top of the 12th.
Tim Kensinger got the frame started by doubling to left field off Ben Vey. Jake Lumley then reached on an error, which scored Kensinger, to make it 2-1. Later in the inning Anthony Massicci drilled a sacrifice fly to center field to score Lumley to give the squad the game winning runs.
Jared Kennedy got the start but only worked 1.2 innings before Andrew Sipowicz took over and worked an impressive 3.1 frames, recording five strikeouts.
Andrew Kneussle came on in the 11th inning and recorded his second win of the season, working a scoreless inning, to improve to 2-2.
Iannick Remillard finished the game out in the 12th, as he faced four batters and recorded two strikeouts. The save was his 10th of the season, and with it he ties the program record for most saves in a career, tying Jon Fitzsimmons mark of 22.
The Griffs outhit the Bulls 9-7 in the contest, while the team stayed clean defensively. The Bulls committed five errors through the 12 frames.
The top of the order proved to do the damage for the Blue and Gold with the leadoff through fourth hitters, recorded eight of the team's nine hits.
Ryan Stekl led the team in hits going 3-of-6 from the dish, while Kensinger and Liam Wilson both recorded a pair.
Canisius now continues its MAAC slate this coming weekend, welcoming Iona to town on Saturday and Sunday. A doubleheader is slated to start at 11 a.m. on Saturday with a Sunday finale scheduled for noon.