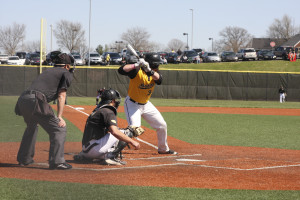 Courtesy of NKUNorse.com
HIGHLAND HEIGHTS, Ky. – The Northern Kentucky University baseball team takes a break from Horizon League play for midweek games against Xavier and Dayton at Bill Aker Baseball Complex this week. The Norse host the Musketeers on Tuesday at 3 p.m. then take on the Flyers Wednesday at 3 p.m.
Links to live stats and audio are available at NKUNorse.com
Gameday Information
Xavier Musketeers (13-24, 1-2 BIG EAST)
at Northern Kentucky Norse (14-21, 4-11 Horizon League)
Tuesday, April 19 – 3 p.m.
Bill Aker Baseball Complex | Highland Heights, Ky.
Xavier: So. RHP Damien Richard
NKU: Jr. RHP Kyle Colletta
Dayton Flyers (12-24, 4-8 Atlantic 10)
at Northern Kentucky Norse
Wednesday, April 20 – 3 p.m.
Bill Aker Baseball Complex | Highland Heights, Ky.
Dayton: TBA
NKU: Fr. RHP Matt Ianni
LAST WEEKEND: The Norse are coming off their first Horizon League series win as they took the first two games of a three-game set at Youngstown State over the weekend. NKU won a 9-8 slugfest to open the series, distributing nine runs across five different innings as Tito Montgomery went 3-for-4 with three RBI. In game two, the Norse used a pair of big innings to cruise to an 11-5 win. The finale saw a 3-1 pitchers' duel with Pat Kelley tossing 6.2 innings of one-run baseball, but the Norse eventually fell after YSU tacked on a pair of late runs in the eighth.
SCOUTING THE MUSKETEERS: Xavier dropped a three-game set against Georgetown over the weekend to dip to 13-24 this season. The Musketeers are 6-21 on the road. They are batting .246 as a team led by Daniel Rizzie who has started every game and is averaging .279. Joe Gellenbeck and Andre Jernigan each have 27 RBI and have either scored or driven in 101 of Xavier's 163 runs this season.
Xavier pitchers have a 5.22 ERA as teams are batting .293 against the staff. Garrett Schilling leads the bullpen with six saves in 14 appearances and 22.2 innings pitched.
SCOUTING THE FLYERS: Dayton travels to Toledo on Tuesday before heading to Highland Heights for Wednesday's tilt. Robbie Doring has a team-best .309 average with eight home runs and 23 RBI. Doring is one of eight Flyers with double-digit RBI through 36 games this season.
The pitching staff has accrued a 4.64 ERA with 208 strikeouts and 136 walks. Teams are batting .284 against the Flyers.
MIDWEEK SUCCESS: NKU is 5-0 in midweek games with wins over Ohio, Northwestern, Kentucky, Butler and Miami (Ohio). The Norse pitching staff owns a 2.74 team ERA in midweek contests, while the bullpen has combined to allow just one run in 18.2 innings of relief for a 0.48 ERA. Charlie Jerger and Nick Beard have each tossed 6.0 scoreless relief innings and have combined to allow just three hits. Offensively, Trey Ganns has batted .400 (8-for-20) with three RBI against midweek opponents to help the Norse out-score foes, 32-15.
STREAKING: Logan Spurlin has reached base in 19-straight games, the longest streak for an NKU player this season. The senior catcher has reached in all but four of his 32 games this season and owns a .439 on-base percentage, the fourth-best mark in the Horizon League. He has reached base courtesy of a team-best 38 hits, 11 walks and has been hit by a League-high nine pitches.
.300 CLUB: Tito Montgomery eclipsed the .300 batting average mark after going 11-for-23 (.478) with nine RBI across the last seven games, including 6-for-13 with five RBI against YSU. The junior started the month of April with a .205 average and is now batting .306. He joins three other Norse – Logan Spurlin (.339), Ty Amann (.333) and Dominic Mercurio (.308) – batting over .300.
UP NEXT: Following the pair of midweek games, NKU travels to Rochester, Michigan, to take on Horizon League foe Oakland in a noondoubleheader. The Norse then turn around for a twinbill at home on Sunday against League-leading Wright State.