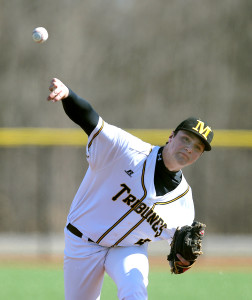 By PAUL GOTHAM
BATAVIA, N.Y. — Timely hitting and a pair complete-game outings from Zach Vennaro (New York Mills) and Colin Johnston (Greece Athena) proved the difference as the Monroe Community College Tribunes swept the Genesee Community College Cougars (11-2/5-2) in non-league action, Saturday.
Vennaro hurled a two-hitter in game one. The right-hander fanned seven and walked three in improving to 5-0 on the season.
"I stayed within myself," the sophomore said.  "Didn't try to overthrow. Just threw strikes. The slider felt good today.
"My mentality throughout the whole game is to get ahead and throw strikes. After I do that, I take it from there."
After allowing five runs on six hits over five innings in his previous outing against Herkimer CC, the 6-5 starter didn't surrender a base rap until Genesee's Terrance-John Garcia's two-out single in the fourth.
"He was pitching ahead," Monroe coach Dave Brust said.  "Especially his first four innings, he was just 1-2-3 with first pitch strikes. That is certainly a credo with our pitching staff is strike one. When you call the shots, more times than not good things are going to happen."
Saturday, Vennaro did not allow an earned run.
"Throwing strikes was the difference," Vennaro noted. "I was a little wild especially in that second inning against Herkimer."
Monroe sent eight to the plate and got all the runs it needed in a five-run fifth. Connor Lewis (St. Marguerite d'Youville) sparked the barrage with a double off the fence in left field.
"I was just trying to hit the ball hard somewhere," Lewis said.  "In my first at bat, he was throwing me some good pitches…I took a fast ball first pitch, and I knew he was going to come back with the curve ball, so I just jumped on it."
Johnny Ricotta (Greece Athena) followed with a base on balls. After Anthony Santoro (Henninger) moved the runners with a sacrifice bunt, Collin Stack (Maple Grove) delivered with an RBI sacrifice fly to give the Tribs a lead they never surrendered.
Luke Brust (Honeoye Falls-Lima) reignited the rally with an RBI triple to dead center.
"I want up there just trying to put a good swing on the ball," the sophomore center fielder said. "When there's a man on second I'm just trying to square it up to center field. He threw me a hanging curve ball, and I jumped on it. It kept carrying over the centerfielder's head, and I knew I had to go three."
Ryan Brown (Brighton) grabbed the baton from there and connected on another three-bagger. Ryan Boutelle (Gowanda) and Matt Brooks (Auburn) capped the inning with back-to-back RBI doubles.
Santoro drove in two as Monroe added four insurance runs in the fifth.
Mike Pringle (Pittsford-Sutherland) put the game out of reach with an RBI sacrifice fly in the sixth.
Johnston struck out seven, walked two and surrendered five hits in game two. The freshman right-hander allowed two runs in the fifth, but returned and locked in for the complete game effort.
"Guys are going to find we can't just run to the bullpen," Brust noted. "This time of the year we've got to extend them a little bit. They have to work through rough patches. They need that experience. He did a fine job of doing that."
Johnston retired the side in order twice and faced the minimum in five different innings. He recorded nine ground ball outs and two infield pop ups.
"He was pitching ahead," Brust said. "Had his sinker ball down in the strike zone. Throwing curve ball for strikes. He pitched well."
As it did in game one, the sacrifice played a prominent role in Monroe's victory.
Brooks led the fifth with a single, and Pringle moved the runner with a sacrifice bunt. Lewis walked and a double steal later Ricotta brought home the runs with a single to shallow center.
Brown singled to start the sixth, and Boutelle did a job offering himself to move the go-ahead run 90 feet. After a wild pitch, Brooks walked and stole second. Pringle plated another with a sacrifice fly.
"The situational hitting all around was good," Brust said pointing out the role of third-base coach Cory Brownsten. "Coach Brownsten he pulls it out at the right time. It's tempting to sac bunt every time you get a guy on first base with no outs. I think "Browny" does a great job of understanding our guys and understanding the other team's strengths and weaknesses and knowing when to attack.
"I think on grass fields it's a tougher play to deal with. You not sure what's going to happen. The pitcher also has to throw strikes. They have to complete the play. The pressure in my mind is on them. Yes, we're giving up an out, but ultimately if it is successful it will more times than not work out in our favor."
Lewis capped the inning with his fourth home run of the season.
"He gave me a fast ball up and I went with it," Lewis said of the round-tripper. "It's always good to get at least two wins. Now we got to get two more."
Monroe improved to 13-11.
The same two teams meet Sunday at Monroe. A 1 p.m. first pitch is scheduled.