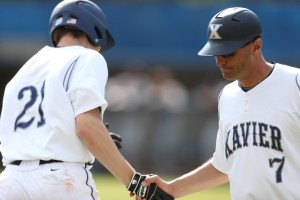 Courtesy of GoXavier.com
OXFORD, Ohio –
 Xavier baseball head coach Scott Googins tied the school record with his 287th career win as the Musketeers pulled off a comeback 8-5 win against crosstown rival UC

on Wednesday

at the Joe Nuxhall Classic – hosted this year by Miami University at Hayden Park.
Xavier improves to 12-22 overall with the win, while UC dropped to 16-18 overall.
Googins, in his 11th season, ties former XU skipper John Morrey (1993-2004) who compiled 287 wins over a 12-year career.
XU AT THE PLATE
· Nate Soria led the Musketeers with a 3-for-4 day, bashing a pair of doubles to go with a run scored and an RBI. Soria has now scored in four straight games and has five hits in his last seven trips to the plate.
· Dan Rizzie (2-for-3, HR, 2 RBI) and Ethan Schmidt (2-for-4, R) added multi-hit games. Rizzie leads the team with 14 multi-hit games in 2016.
· Rizzie's solo homer in the eighth was his fifth of the season.
· Chris Givin (1-for-4, 2 R, 2 RBI) connected for his first career triple in the sixth, plating a pair of runs and tying the game.
· Andre Jernigan (1-for-1, R, RBI) and Joe Gellenbeck (1-for-5, R) also added hits for XU.
· Rylan Bannon reached base for the 13th straight game, walking and scoring a run in the first inning.
· The eight runs were tied for the fifth-most scored by XU this season. It was the 10th
· XU worked five walks as a team and has earned at least four passes in seven of its last 10 games. The Musketeers have drawn 46 walks (4.6 per game) during the span.
XU ON THE MOUND
· Trent Astle made the start and lasted four innings, striking out three and allowing four earned runs.
· Greg Jacknewitz entered in the fifth with the bases loaded and no outs, proceeding to get XU out of a big jam. The junior lefty struck out two and allowed just one run to cross on a fielder's choice to keep it 4-2.
· Jacknewitz would finish the night with 2.1 innings of one-run ball, while striking out five.
· Trey Schramm came on in the seventh with the bases loaded and one out, but wiggled out of the situation by getting a fly ball to left. Joe Gellenbeck was able to alertly double up the UC runner at third on the play to end the inning.
· Schramm exited after the eighth, closing his afternoon with 1.2 innings of hitless relief.
· Garrett Schilling worked around a walk in the ninth, striking out one and picking up his fifth save of the season.
HOW THE MUSKETEERS SCORED
FIRST INNING:
 Chris Givin and Rylan Bannon worked back-to-back walks to begin the inning before Dan Rizzie doubled down the left field line to score Givin. With one out, Blaine Griffiths lofted a sacrifice fly to right field to bring Bannon across the plate and make it a 2-0 lead.
SIXTH INNING:
 Trailing 5-2, Nate Soria began a one out rally with a double down the left field line. Ethan Schmidt followed with a single to left, putting runners on the corners. After a fly out by Will LaRue, Andre Jernigan chopped an infield single to score Soria. Chris Givin batted next and cleared the bases with a triple to right center. Rylan Bannon then reached on a throwing error, allowing Givin to cross and giving Xavier a 6-5 lead.
SEVENTH INNING:
 Joe Gellenbeck led off the inning with a single to center, advancing to second on a passed ball. With one out, Nate Soria doubled down the left field line to make it a 7-5 lead.
EIGHTH INNING:
 Dan Rizzie launched a one out solo homer to left field to make it 8-5.
UP NEXT
· Xavier begins BIG EAST Conference play, traveling to Washington, D.C. to face Georgetown for a three-game series. First pitch is set forFriday, April 15 at 4 p.m. ET.