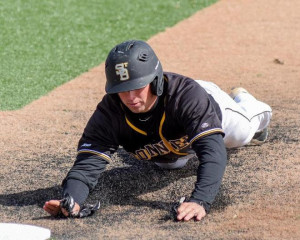 Courtesy of GoBonnies.com
ST. BONAVENTURE, N.Y. – The scheduled non-conference doubleheader for the St. Bonaventure University baseball team at Niagara on Tuesday has been postponed due to wet field conditions following the weekend's rain and snow.
The Little Three rivals will reschedule their second doubleheader meeting of the season for Tuesday, April 19 at Niagara beginning at 2 p.m.
St. Bonaventure's previously scheduled non-conference doubleheader with Cornell at home on April 19 has been canceled and will not be made up.
The Bonnies (14-11-1, 2-4 Atlantic 10) return to conference play beginning Friday at Dayton for a three-game series.