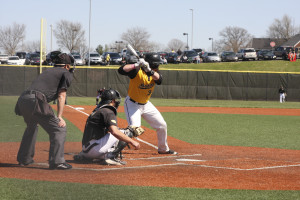 Courtesy of NKUNorse.com
HIGHLAND HEIGHTS, Ky. – Dominic Mercurio and Quint Heady led a Northern Kentucky offense that registered 14 hits and cruised to a 12-6 win over UIC at Bill Aker Baseball Complex on Saturday afternoon. The NKU victory evens the three-game series at one game apiece.
With the win, NKU improves to 12-19 overall and 2-9 in the Horizon League while UIC dips to 12-17 and 4-3 in League play.
Mercurio had a career-high four hits on a 4-for-5 showing to go with two runs scored and a pair of RBI.
Heady laced a three-run home run for a game-high three RBI. Kyle Colletta added two RBI while Tito Montgomery posted his second triple in as many games to drive in a pair of runs.
The Norse got off to a scoring start, plating nine runs off nine hits in the first two frames.
After NKU starter Pat Kelley retired the side in order in the top of the first, the Norse came out swinging for four hits in the home half of the frame. An RBI single from Spurlin scored Conor Ledger, followed by a two-run single to center field off the bat of Mercurio for a 3-0 Norse lead.
A six-run second frame highlighted the affair for NKU. Heady's three-run homer capped off the inning that also saw RBI knocks from Kyle Colletta and Trey Ganns, handing the Norse a 9-0 lead.
UIC contested four runs distributed across the next three innings, but the early onslaught from the Norse provided enough insurance for the victory as NKU also added two runs in the fifth and one in the eighth.
Nick Beard picked up the win to improve to 3-0 this season. He tossed 3.1 innings with three hits, two runs, one earned while Aric Harris added 1.1 innings of relief with three strikeouts.
The teams return to action for the rubber match on Sunday at Bill Aker Baseball Complex. First pitch is set for noon with the action carried live on ESPN3. 
NORSE NOTES:
Mercurio is batting a team-high .442 against League opponents. Nineteen of his 32 hits have come in Horizon League games as he has reached base safely in 18 of the last 19 contests.
Ganns has had a multi-hit showing in four of the last five contests and is batting 9-for-21 in that span.
NKU's leadoff batter reached base five times in nine innings on Saturday for a .556 clip.