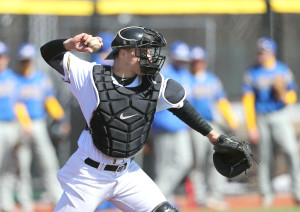 By PAUL GOTHAM
ROCHESTER, N.Y. — Anthony Santoro (Henninger) led a relentless offensive attack, and Luke Tomczyk (Churchville-Chili) earned his second win of the season as the Monroe Community College Tribunes swept Herkimer Community College (10-8/11-1) in NJCAA action at Tribune Field, Thursday.
Santoro finished the day 7-for-7 and hit for a combined cycle over the two games.
"I felt good," the Monroe catcher said. "Seeing the ball well. The ball looks big at the plate. Sticking to our approach as a team. Feel good."
The Syracuse, New York native scored four runs and drove in five on the day.
"Coach Brust emphasizes keeping the hands inside the baseball, and I've just been taking that to heart and trying to do that," the 5-11 freshman said.
Santoro has now reached base safely in each of his last 12 plate appearances. He brought home Connor Lewis (St. Marguerite d'Youville) in his first trip to the plate with a one-out base hit through the right side of the infield as MCC grabbed a 2-0 lead in their first at bat of the afternoon.
"He's a hot hitter," Monroe coach Dave Brust said. "Just let him roll. Stay out of his way. Ultimately, his hot streak will hopefully turn into somebody else getting hot."
Herkimer's Gage Lanning (Paul V. Moore) capped a four-run second with a single scoring two as the Generals grabbed their only lead of the day at 4-2.
Monroe responded in the bottom half of the inning. Luke Brust (Honeoye Falls-Lima) was the headlight with a single to left field. Mike Pringle (Pittsford Sutherland) followed with an RBI double. One out later, Matt Brooks (Auburn) made it a 4-4 game with a single up the middle.
MCC took the lead in the third. Johnny Ricotta (Greece Athena) walked and eventually scored on an error. Santoro made it 6-4 with a solo shot to left.
Herkimer threatened to regain the lead in the sixth, but Colin Johnston (Greece Athena) came out of the Monroe bullpen with no outs, the tying run on third and fanned the first three batters he faced.
"I just knew I had to go in there and throw strikes," the freshman hurler said. "I picked up that the whole game they were swinging first pitch fastballs. I threw a decent amount of changeups and sliders. Had to get them off balance. After I got the first out, I knew I could easily do it. Just had to keep going at them and keep throwing strikes. Walks kill."
Zach Vennaro (New York Mills) improved to 4-0 with the game one win. The right-hander allowed five runs on six hits and four walks over five innings. He retired 10 on punch outs.
In the second game, Tomczyk improved to 2-2 on the season. The 6-5 right-hander allowed one run on six hits and a walk over five innings. He struck out six.
"We were hitting outside (part of the plate) early in the count," Tomczyk said of the attack he and Santoro took with batters. "If we got o-2 or 0-1, we tried to jam them up inside. If that was working, then we hit them with the curve ball."
Herkimer put the first three batters aboard in the second, but Tomczyk escaped unscathed. After Santoro threw out a runner at third on an attempted stolen base, Tomczyk set down the side with a punch out and comebacker.
"I was a little wild at first actually," Tomczyk. "I was overthrowing. Back of my mind I was telling myself what coach Brust always tell us 'to keep it low.' It ended up working out."
Monroe jumped to an early lead in the nightcap and never looked back. Alex Saville (Vernon-Verona-Sherill) reached on a hit by pitch to lead the first inning. After a passed ball, Brooks brought home a run with a single up the middle. One out later, Ricotta doubled home another, and Santoro followed with an RBI two-bagger of his own.
"I thought there were four or five guys who were hot today," Brust commented. "Especially all at once, too. Keep banging. It does spread."
Brooks, Lewis and Collin Stack (Maple Grove) all collected four hits in seven at bats for the afternoon. Brooks scored three runs and drove in two. Lewis crossed home on three occasions and plated a trio of runs. Stack tripled, scored once and drove in four.
Ricotta went 3-5 with four runs, four RBI and two base on balls. Luke Brust finished with two hits, scored twice and drove in another. Saville reached base three times and scored twice. The sophomore second baseman added two sacrifice bunts.
Monroe's defense did not commit any errors.
The Tribunes improve to 8-10 with the wins.
The Tribunes host Utica College JV on Sunday, April 10th. A 1 p.m. first pitch is scheduled.