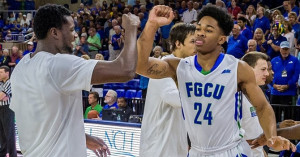 Courtesy of FGCUAthletics.com
DUNK CITY, Fla. – After securing its second NCAA Tournament appearance in three years, the FGCU men's basketball team will play in the First Four against Fairleigh-Dickinson Tuesday. The announcement was made during the national announcement on CBS during its Selection Sunday show. The Eagles are scheduled to tip off at 6:40 in Dayton, Ohio on TruTV.
FGCU booked its ticket to the NCAA Tournament with an 80-78 overtime win over Stetson in the Atlantic Sun Championship last week Sunday. Now the Eagles will face the Fairleigh-Dickinson Knights as part of the First Four, with the winner advancing to play the No. 1 seed in the East Bracket North Carolina Thursday.
Fairleigh-Dickinson entered the Northeast Conference Tournament as the No. 8 seed, but defeated Saint Francis, Mount St. Mary's and Wagner to punch its ticket to the NCAA Tournament. The Knights are 18-14 this season and have won five-straight heading intoTuesday.
Led by Darian Anderson, the Knights average 77.9 points per game while shooting 46.3 percent from the field. Anderson paces the Knights offense, averaging 15.4 point per contest. Ear Potts Jr is averaging 14.7 points per game while shooting 51 percent from the floor. Teams have had success on the boards against Fairleigh-Dickinson, posting a plus-five rebound margin during the 2015-16 season.
Madness ensued the last time FGCU danced in March as the Eagles captured the nation's attention with their high-flying Dunk City aerial attack, dunking 2nd-seeded Georgetown and 7th-seeded San Diego State en route to becoming the only 15 seed in NCAA Tournament history to advance to the Sweet Sixteen.
While FGCU (20-13) hasn't been to the NCAA Tournament since 2013 – just its second season eligible for Division-I postseason play – the Eagles have been the standard in A-Sun men's basketball, recording four-straight 20-win seasons and reaching the postseason in each of those years. After winning the A-Sun Tournament title in 2013, the Eagles claimed the 2014 A-Sun regular-season championship and an NIT bid and played in the 2015 CIT. So far this year, 84 percent of FGCU's points, 88 percent of its rebounds and 89 percent of its assists have come from non-seniors.