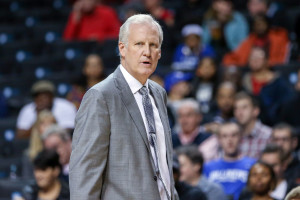 Courtesy of SLUBillikens.com
BROOKLYN, N.Y. – Saint Louis University Director of Athletics Chris May announced today that Jim Crews has been released as SLU's head men's basketball coach. This decision comes as the Billikens ended their season

Thursday

at the Atlantic 10 Conference Championship in Brooklyn, N.Y.
"After reviewing the 2015-16 season and talking with Coach Crews, I have decided that a change in leadership of the men's basketball program is needed for the program to move forward in meeting our goals," May said. 
The team was told of the coaching change today after their final game of the season.
May thanked Crews for his many contributions to Billiken basketball.
"Jim Crews took over as head coach during a very difficult time and has led the men's basketball program with great class and dignity," May said. "Jim has represented our University well, and helped the program achieve success on the court and in the classroom. His character and commitment are exemplary, which made this decision ever more difficult."
Crews joined the Billiken staff in 2011-12 as an assistant coach, and was tabbed interim head coach for the 2012-13 season. He had the interim tag removed following the 2012-13 campaign.

In four years

as the Billikens' head coach, he accumulated a 77-56 record and led SLU to two NCAA Tournament appearances. SLU captured A-10 regular-season crowns in 2013 and 2014 and won the 2013 A-10 Men's Basketball Championship.
"However, the last two seasons have not been as successful as we had hoped, and we believe new leadership is needed to move the men's basketball program forward," May said.  
May also announced that a national search for the next men's basketball head coach has begun. SLU is looking for a coach with a history of success and who understands the Department of Athletics' commitment to the strategic objectives of educating, competing, and building community.
"It will be important for the new head coach to embrace Saint Louis University's mission and values as a leading Jesuit university," May said. "The next coach will play a critical role in representing the University on a local, regional and national level."