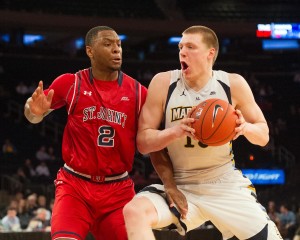 By PAUL GOTHAM
NEW YORK —  The moment wasn't lost on Marquette Golden Eagles coach Steve Wojciechowski.
Marquette had just defeated St. John's, 101-93 in the opening round of the Big East tournament. Led by conference Rookie of the Year, Henry Ellenson, and Haanif Cheatham the Golden Eagles shot 55.8 percent (29-of-52) from the floor to hold off a second-half Red Storm rally.
When asked about his next opponent, No. 2 seed Xavier Musketeers, Wojciechowski didn't overlook the fact that the post-game press conference was taking place after midnight.
"We have Xavier today," the second-year coach said laughing. "We're going to pull out the AAU handbook on two games in one day, and see how to best advance in the platinum division."
The turnaround between games will give Marquette less 19 hours to prepare.
"In all seriousness, you know, we'll get back to the hotel late," Wojciechowski continued. "We'll try to get our guys hydrated, get some food and let them try to get some rest. In games like this your adrenaline is pumping. So we want them to get hydrated and get as much rest as possible. When they get up tomorrow, we'll do a scouting report on Xavier."
Marquette (20-12) fell twice to Xavier, currently ranked No. 5 in the country, this season – 74-66 on January 16 and 90-82 at the Cintas Center on February 6.
The Golden Eagles converted 17 St. John's turnovers into a 26-13 advantage in point off turnovers. The Musketeers commit 12.8 mishandles a game.
"They know who Xavier is," Wojciechowski said referring to his players.  "Xavier is a team that is capable of winning a national championship. Chris Mack really could be National Coach of the Year. He's done a remarkable job with his team, and they have a number of different weapons.
"Our guys have played them — we've had our chances against them. We know we'll have to be at our best in order to beat them. We feel very fortunate to have that opportunity."
Ellenson registered a double-double with a game-high 14 rebounds and team-high 27 points on 8-of-16 shooting. The 6-11 forward hit 2-of-3 from behind the arc. Cheatham scored 19 on 6-of-9 shooting. The freshman handed out two assists and grabbed two boards.
"We've asked these two young guys from the time that we've recruited them to bear a great deal of responsibility, and that means stepping up and making plays in high-pressure situations. And these guys have done it more times than not.
"We've been in 13 games where the games have been decided by five points or less; we've won ten of them. And a lot of them have been a result of the plays that these two guys have made."
Marquette led by 12 at half and pushed their advantage to 17. Christian Jones scored 29, and Ron Mvouika drilled a 3-pointer with 3:15 remaining to give St. John's its first lead of the second half at 89-88.
"We were able to build a lead because we were sharing the ball offensively," Wojciechowski noted. "We were able to get our offense in good spots. We were able to drive and attack the basket and get to the free-throw line. In the second half I thought we started off the second half just okay. And then we let up on the defensive end. You know they're going to make a run.
"Any time you win in a Big East Tournament game it means a great deal."
Marquette and Xavier will tip off 7 p.m. Thursday.