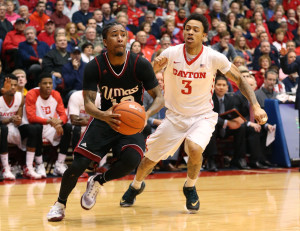 By PAUL GOTHAM
BROOKLYN — Trey Davis ended a more than 10-minute drought without a field goal, and the University of Massachusetts Minutemen held off Rhode Island, 67-62 in second round of the Atlantic 10 Championship at the Barclays Center, Thursday.
Davis connected with a step-back triple near the top of the arc to seal victory that moments earlier looked anything but certain.
"In my mind it was in, just for one reason," UMass head coach Derek Kellogg said. "I've seen him do it quite a few times this season, and it gave us a nice four-point lead. It was a play that — we were kind of struggling to score for a while. We started walking the ball up the floor and I think that was the obvious play that ended up giving us the victory."
The triple was the second of the night for Davis but only the second for UMass in the second half after connecting on five 3-pointers in the first half.
"They tried to take away the three-point line from us because that's something that we're known for, and so it opened up some of the driving lanes," Kellogg commented. "I thought our guys did a nice job of getting into the paint, making some one-on-one plays, and we really tried to space the floor and see if we could take advantage of some different match-ups."
Jabarie Hinds connected on all three of his attempts from long range in the first half, part of a 17-point effort in the first 20 minutes, as UMass eventually took an 18-point lead before the break.
"It was huge," Kellogg said of the production by Hinds. "Everybody knows when he scores the ball and does things like that, we're a much, much better team. He kind of held it down for us in the first half."
Rhode Island scored on its last five possessions of the first half to cut the lead to ten.
Earl Watson hit a pair of free throws. Four McGlynn used a spin move in the lane and finished with a tear drop. McGlynn converted a pair of one-and one free throws, and Watson scored on a tap in. Jared Terrell scored before the buzzer to make it a 37-27 game at half.
"I thought our guys showed a tremendous amount of resiliency, character, toughness," Rhode Island head coach Dan Hurley said. "We got knocked down early in the game… Most programs would have folded, maybe lost by eight or 10."
Jarvis Garrett capped an 18-2 run as Rhode Island took its first lead of the game with 1:34 remaining.
Trailing by 15, Christion Thompson hit one of two free throws. McGlynn nailed a 3-pointer. Kuran Iverson grabbed an offensive rebound and finished at the rim. Watson made it 56-50 with a 3-point play. McGlynn used a step back into a jumper before Garrett hit two free throws. The sophomore, who is recognized by the face mask he has to wear as the result of injury suffered earlier in the season, found Iverson in the lane for two. Next trip down the floor, Garrett drew the defense and kicked to Terrell in the right corner for a triple. URI led 59-58.
The setback was particularly bitter for a Rhode Island which has suffered a rash of injuries including season-ending losses of E.C. Matthews and Hasan Martin.
"I couldn't be prouder," Hurley said. "I'm not sure how many programs in the country could have withstood the multitude of things that went on that these guys had to deal with the whole year, and it's an incredible group of kids to coach."
Davis hit two free throws to give UMass the lead back at 60-59 before clinching the game with 33.0 seconds remaining.
"It would have been a tough enough shot if he was going left, but for a righty to go right and hit that step-back shot," Hurley noted. "It's like we made the adjustment, did a much better job in the second half on Hinds, and then Trey Davis. He's a slick kid with that one-point lead, he was able to get to the free-throw line, and then obviously made both of those and then hit that dagger three there which really just — that was the kill shot, and an incredibly tough shot."
For UMass the victory helped the Minutemen avoid re-tracing recent missteps. UMass led by 18 before falling at St. Bonaventure 85-83 on February 27.
"We've matured from that, just found a way to win," Davis said. "Now we know we can do that. We've always known we can do that, but we really did it this time, so that's going to lead down the stretch to the next game."
Hinds scored 21 and Davis had 20.
McGlynn led URI with 16. Watson added 15, and Terrell had 14.
Watson had 15 rebounds including eight on the offensive end. Rhode Island converted 17 offensive boards into a 17-2 advantage in second-chance points.
UMass will face VCU in Friday's quarter-final. A 6:30 p.m. tip off is scheduled. The game will be televised on NBC Sports Network.