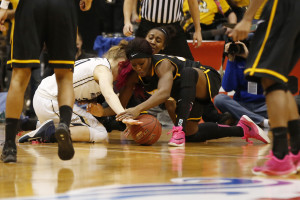 Courtesy of Atlantic10.com
RICHMOND, VA. – Top-seeded George Washington took advantage of poor third period shooting by VCU to build a fifteen-point lead, then hold a Rams comeback bid at bay to clinch a return berth to the Atlantic 10 Women's Basketball Championship, knocking off the fifth-seeded Rams 72-58 Saturday afternoon at the Richmond Coliseum.
A pair of double-doubles led the way for the Colonials (25-6) as Caira Washington scored eighteen points and pulled down thirteen rebounds, while Jonquel Jones, in her second game back from a shoulder injury, scored eleven points and had eighteen rebounds before fouling out with 49.9 seconds left. The eighteen boards tied Jones for fourth on the all-time list for most rebounds in a single game with Vicky Picott of Rutgers, who had two eighteen-rebound games in the 1991 Championship.
"We talked a lot about whether we could be the tougher team since VCU was tougher in our game where we lost two weeks ago," noted George Washington head coach Jonathan Tsipis. "When you're trying to take steps to win a championship, it's more than motivation. You have to lock in, and it came down to toughness from us, stops we got defensively in the second half, especially from Lauren (Chase) on (Ashley) Pegram."
VCU (23-9), down 37-31 at halftime, remained alive thanks to the work of Pegram, the Rams' leading scorer for the second consecutive game, scoring all thirteen of her points in the first half.
VCU cut the lead to four with an Isis Thorpe basket to start the third period, then proceeded to miss sixteen of their remaining eighteen shots in the frame, falling behind 53-38. Seniors Adaeze Alaeze and Chadarryl Clay added eleven and ten points respectively. The Colonials scored 21 second-chance points, while VCU had only seven.
"I thought we made a great run, going up against a very well-coached team, and we ran out of gas with playing three games in three days," said VCU head coach Beth O'Boyle. "It was a forty-minute game, and we made them earn it. We kept grinding and grinding, but some of the buckets that we needed just didn't happen."
The Colonials will appear in consecutive championship games for the first time since 2005 and 2006. They will face the winner of the second semifinal between Duquesne and Saint Louis for the Atlantic 10 Women's Basketball Championship on Sunday at 12pm.