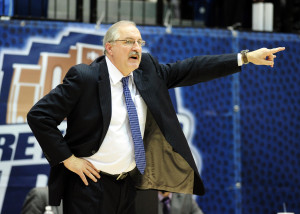 Courtesy of GoGriffs.com
Canisius Director of Athletics Bill Maher announced today that Jim Baron and the College have agreed to a three-year contract extension that will keep him with the Canisius men's basketball program through the 2019-20 season.
Baron, a 29-year Division I head coaching veteran, has compiled 461 career wins, making him one of 36 active Division I head coaches to reach the 460-career win milestone. In his fourth-year on Main Street, the Brooklyn, N.Y., native has led the Golden Griffins to 72 wins and 44 MAAC victories. His 72 wins as Canisius' bench boss ranks him tied for seventh on the school's career coaching wins list, and he is the only coach in the school's 112-year history to take his teams to the national postseason in his first three years at the helm of the program. Baron was named the 23rd head coach in school history April 2, 2012.
"I am very happy to have Jim Baron under contract through the 2019-20 season," Canisius President John J. Hurleysaid.  "In just a few short years, Jim has confirmed the wisdom of our original decision to hire him.  He has been a true leader for our program and has created a winning culture here at Canisius.  This contract extension is a great vote of confidence in Jim and in the direction of our program."
"Under the leadership of Jim Baron, our men's basketball program has had success both on the court and in the classroom," Maher said. "Jim is a proven winner and he demands the best from his student-athletes. We are excited about the future of our men's basketball program under his leadership."
Every former Canisius student-athlete who has played for Baron in their senior season has earned their undergraduate degree from the College, and two of those players also received a master's degree from Canisius. Six of Baron's former players at Canisius are currently playing basketball overseas, and former team captain Chris Manhertz is a member of the New Orleans Saints' practice squad. Just last week, the 1977 graduate of St. Bonaventure was honored with a "Lifetime Achievement Award" by the National Association of Basketball Coaches (NABC) International Committee.
Additionally, the College announced that Pat Clarke, a long-time assistant on Baron's staff dating back to his time at St. Bonaventure, has been promoted to associate head coach.
Canisius will meet long-time rival Niagara tonight in the MAAC Championship first round. Tipoff in the Times Union Center in Albany, N.Y., is set for 7 p.m.