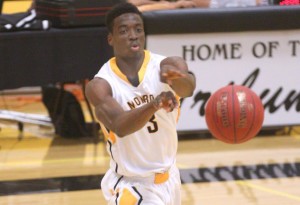 By PAUL GOTHAM
ROCHESTER, N.Y. — Monroe Community College men's basketball coach Jerry Burns didn't use much ink when writing his scouting report for Saturday's  Region III Division II semi-final.
The message to his players consisted of one word.
"All we put on our scouting report was 'men,' the 23rd-year coach said. "We put it at that bottom. We just put men. There wasn't anything else."
The expectation received its desired effect.
Izaha Jackson (Brooklyn, N.Y.) led five in double figures as Monroe downed the Genesee Community College Cougars, 94-73 on Monagan Court to advance to Sunday's championship game.
"Men play hard, and that's what we wanted to do," Burns explained. "If it's a loose ball, we better see two or three guys diving on it. We had to have three or four guys going for the offensive rebound. We're not going complain about fouls. We're going to talk on defense. We're going to play like men. I thought we did that today."
Coming out of timeout less than four minutes into the game, Jackson scored five including one of his game-high five three pointers during a decisive 17-0 first half run. Damon Miraud (Elizabethtown, N.J.) started the run with a pull-up three. A minute and 46 seconds later, the Tribs had connected two more times from long range for a lead they would never surrender.
"It was a combination of let's get going and then also we needed to pick the pace of the game up," Burns said of the discussion during the timeout. "That's when we went into our press, our '52' press."
Jackson followed his trey with a steal and layup. The sophomore guard then deflected a Genesee pass to Darwin Trotman (Brooklyn, N.Y.) for another easy bucket and a double-digit MCC lead at 21-11.
"He's a spark off the bench," Burns said of Jackson. "He plays with emotion. He plays hard. He makes everybody else around him better."
Trotman used a spin move in the lane for another bucket. Romaine Thomas got free on the wing for a dunk, and Miraud made it 28-11 when he converted one of 12 GCC first-half turnovers into another flush.
The Tribs finished the game with 17 points off 16 Genesee turnovers.
"They were pretty much set in what they were going to do with their half-court offense,"
Burns explained. "I just felt like we needed to get up and get going. We needed to play a little bit faster. We got a lot of easy baskets just doing that."
Trotman pushed the lead to 20 at 46-26 with a rebound and putback. Monroe took a 50-32 lead into the locker room. The Tribs hit 21-of-35 shots in the first half and committed just five turnovers. They scored on 24 of 40 possessions including eight of nine during the decisive run.
"They didn't press us a whole lot," Burns said of his team's offensive efficiency. "We were ready for their pressure. Being able to run a more-structured offense it gets guys in spots."
Genesee put together a rally early in the second half. Back-to-back layups from Amancho Adopo (New York, N.Y.) cut the lead to 11 at 58-47.
Jackson gave Monroe's response.
The 6-0 guard came off a double screen and drilled a catch-and-shoot triple from the top of the key.
"That was a huge shot"Burns noted. "He stepped up. He's made them all year."
Jackson led all scorers with 21. Thomas added 15. Bretoux, Trotman and Isaiah Davis (Elizabethtown, N.J.) chipped in with 13 apiece.
Trotman and Dykweil Bryan (Brooklyn, N.Y.) handed out five assists apiece.
Alex Morris (Dothan, Ala.) led Genesee with 20 points. Devante Carolina and Terrence Brown both had 14 points.
Monroe will play the winner of Jamestown CC Jayhawks and Erie CC Kats for the Region III Division II title. A noon tip time is scheduled for Sunday. Monroe will be looking for its eighth title since 2000. The Tribs won the title in 2013 and 14.