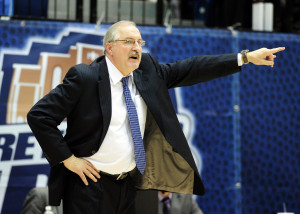 Courtesy of GoGriffs.com
The National Association of Basketball Coaches (NABC) International Committee announced today that Canisius head coach Jim Baron will be presented with the 2016 NABC International Lifetime Achievement Award at the NABC Coaches Convention in Houston on April 2. The NABC International Lifetime Achievement Award is given each year to a coach who exemplifies and demonstrates a lifetime commitment to the coaching profession, coaching education and building relationships across borders and around the world to enhance the game of basketball.
"I am flattered and honored to receive this award from the NABC," Baron said. "I have been a member of the NABC's International Committee for more than 25 years, and I believe in the group's mission to help grow the game of basketball. I am a firm believer that the game is now totally global. I've always loved coaching international players and incorporating their style of play into our systems. This is a tremendous honor for me and I greatly appreciate the NABC's recognition."
Baron, who has been an NCAA Division I head coach for 29 seasons, is being recognized by the NABC International Committee for his work aboard, including serving as the head coach of the Panamanian National Team in the 1992 FIBA Tournament of the Americas where he coached against the original Dream Team. Baron has had a wide influence on the international game through numerous clinics that he has run overseas and the many international players he has coached and mentored. His current Canisius team features six international players, the most of any team in the MAAC.
Baron won his 460th career game as a head coach Feb. 20, when the Golden Griffins defeated Marist 81-66 at home. He is one of 36 active NCAA Division I head coaches to reach the 460-career wins milestone. In his career, the Brooklyn, N.Y., native has coached at four different schools (St. Francis (Pa.), St. Bonaventure, Rhode Island and Canisius), where he has recorded nine 20-win seasons while taking 11 different teams to the national postseason. In his four years at Canisius, Baron holds a 71-59 record, and he is the only coach in Canisius history to the Griffs to the national postseason in his first three years at the helm of the program.
Canisius, which is 12-17 overall and 7-11 in MAAC play, will play host to long-time rival Niagara on Thursday, Feb. 25, with tipoff set for 8 p.m. That game will be broadcast live on ESPN3, and prior to the game, the basketball program will honor its three seniors (Kevin Bleeker, Malcolm McMillan and Jamal Reynolds) who will be making their final appearance on the Koessler Athletic Center floor. Bleeker and McMillan will earn their master's degree from Canisius in May, while Reynolds will earn his undergraduate degree at the school's annual commencement ceremony. Every Canisius player who has played his senior season under Baron has earned a degree from the College.