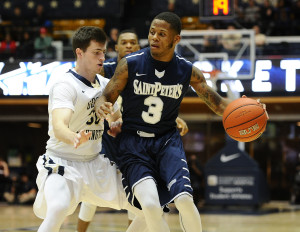 Courtesy of GoGriffs.com
Saint Peter's guards Antwon Portley and Trevis Wyche each hit a 3-point field goal in the game's final 1:03 to help lift the visiting Peacocks to a 61-57 win over Canisius Sunday afternoon in the Yanitelli Center in Jersey City, N.J. The win, Saint Peter's third straight, improved the Peacocks to 11-13 overall and 9-6 in MAAC play, while the Golden Griffins fell to 11-16 overall and 6-10 in conference action.
Canisius led 52-51 with 2:05 left to play after sophomore Kassius Robertson hit a 3-pointer from the top of the key off a pass from senior teammate Malcolm McMillan. Canisius drew an offensive charge call on Wyche on the next trip down the floor, but the Blue and Gold came up empty on offense, and Portley drilled his trey from the top of the key with 1:03 left on the clock to give the Peacocks a two-point cushion at 54-52. After another empty possession on offense, Wyche knocked down a 3-pointer from the right wing with 23 seconds left in regulation time to give Saint Peter's a 57-52 lead.
McMillan followed Wyche's 3-pointer with a triple of his own with 15 seconds left on the clock, but Saint Peter's was able to hit four free-throws in the game's final 12 seconds to seal the win.
For the Griffs, senior center Kevin Bleeker recorded his second double-double effort of the year with 10 points and 10 rebounds, while junior Phil Valenti and sophomore Jermaine Crumpton added 11 points apiece in the loss. McMillan was good for seven points, five boards and two assists for Canisius, which shot 36.5 percent from the field, 36 percent from 3-pojnt land and 71.4 percent from the free-throw line.
Portley and Wyche had 17 each in the win for the Peacocks, who swept the regular-season series from Canisius for the first time since 2011-12. Chazz Patterson added 10 points and eight boards to the winning effort for Saint Peter's, which shot 39.6 percent from the floor, 37 percent from 3-point land and 60 percent from the charity stripe.
How It Happened:
• Saint Peter's led by nine at 15-6 midway through the first half after Samuel Idowu scored a lay-up off a pass from Wyche, who had four assists on the day for the Peacocks. From there, Canisius went on an 8-0 run over the next 2:42to make the score 15-14 in favor of Saint Peter's. In that run, freshman Chris Atkinson drained a pair of 3-pointers and Valenti knocked down two free-throws.
• Saint Peter's led 26-20 with 1:27 left before the half, but Valenti's jumper from the middle of the lane with 1:06 left before intermission made the score 26-22. That was the last bucket of the half for either team, as the two squads combined to shoot 30.9 percent (17-for-55) in the game's opening 20 minutes.
• Canisius fought back in the opening moments of the second half, and two made free-throws by Crumpton knotted the game at 33-33 with 12:45 left to play. Canisius took a 36-33 lead moments later on a trey from sophomore Cassidy Ryan, and after a Saint Peter's score, Crumpton drilled a 3-pointer from the right wing to push Canisius' cushion back to four points at 39-35 with 11:33 left in regulation time.
• Four-straight points from Saint Peter's tied the game at 39-39 with 9:02 on the clock, but Canisius took the lead right back on its ensuing possession when Crumpton knocked down another 3-pointer, one of his three 3-point makes on the day, to push Canisius back into the lead at 42-39 with 8:43 left in the game.
• The game went back-and-forth for the next six minutes, with neither team leading by more than three points, before the Griffs tied the game at 49-49 with 2:47 remaining thanks to a driving basket from McMillan. Saint Peter's followed with two made free-throws to give the home team a 51-49 lead, which set up Robertson's 3-pointer with 2:05 left to play, giving Canisius the 52-51 advantage. That lead would be the Griffs' final lead of the day.
Beyond the Box Score:
• The game featured eight lead changes and seven ties.
• The seven players that scored for Canisius all had six or more points in the loss.
• Five of Bleeker's game-high 10 rebounds came off the offensive glass.
Quotes from Canisius coach Jim Baron
"I didn't think we played very well in the first half, and the fact that we were only down four points at halftime was key, because it kept us in the game. I thought our defensive intensity in the second half was much, much better, we just didn't make any shots when we needed to."
"Saint Peter's is a good team, but they didn't have an answer for our inside game. We had nine turnovers, and some of those came at really bad times and were pretty much unforced. Saint Peter's is always scrappy, you know coming into a game here that you have to protect the basketball at all times."
"We went zone late and [Antwon] Portley made a big three. Then we switched to man and the Wyche kid knocked one down on us. When you're battling and scrapping on every possession, we need to make sure we communicate, especially on the defensive end."
"We have three-straight home games coming up. We'll get back to work this week and keep battling. No one is hanging their heads and feeling sorry for themselves. We need to stick together as a group and keep working to get better."
Additional Game Notes:
• This was the 75th all-time meeting between the two Jesuit schools, with Canisius holding a 42-33 lead in the series.
• The loss ended the Griffs' three-game road winning streak in Saint Peter's Yanitelli Center.
• This was the third career double-double for Bleeker, who also had a double-double effort at Fairfield Jan. 29.
• Valenti played in his 85th career game as a Griff and made his 50th career start for the program.
Up Next: Canisius starts its final three-game homestand of the season on Thursday, Feb. 18, when the Griffs host Fairfield. Tipoff is set for 8 p.m., and the game can be seen live on ESPN3, with the radio call on Timeless WECK 1230-AM and 102.9-FM and through GoGriffs.com.