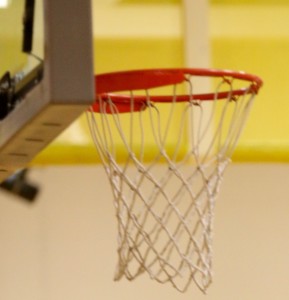 By PAUL GOTHAM
ROCHESTER, N.Y. — Rian Carter may have accumulated more fouls than field goals on Monday night, but he delivered when the Bishop Kearney Kings needed him most.
Carter's 3-pointer with 2.4 seconds remaining on the clock snapped a 60-60 tie as Bishop Kearney defeated the Fairport Red Raiders in non-league action at Ed Nietopski Gymnasium.
Carter let it fly from the left corner over a Fairport zone and connected for just the second time on the evening.
"It was good to see Rian make that especially after having a bad game," Kearney head coach Kevin Goode said. "He was just struggling to get into it. We kept pulling him out to try and talk to him. We have faith in him. He believed it."
The senior guard picked up a pair of offensive fouls earlier in the game when he was called for charges.
"He was trying to force the issue," Goode explained. "I didn't start him in the fourth quarter because I wanted him to gather himself and think about what's going on."
Kearney ran their basic motion set on the winning play. With a double low stack set on the left side of the lane, Carter criss-crossed along the baseline with teammate, Quinton Rose. Fairport's defense shaded toward Rose leaving Carter open. Devin Green found his teammate open for the game winner.
"Because of the type of player Quinton is, a lot of teams tend to gravitate toward him," Goode continued. "We ask other players to step up and make big plays. Rian made it again."
Rose scored 15 of his game-high 20 points as the Kings took a double-digit lead into the locker room at halftime.
The 6-5 senior finished a layup on the break then followed a miss with a putback slam. He grabbed a loose ball and went the length of the floor for two. His pull-up jumper made it 15-4 just four minutes into the game.
"He's a hard matchup for high school basketball," Fairport head coach Scott Fitch said.  "He's long. He hit a couple big pull ups that last year he wouldn't have hit. It's fun to see a kid who can play at such a high level."
Rose connected one time from behind the arc and handed out four assists on the night.
"He's playing great basketball at the right time," Goode commented. "Just trying to get him to play a whole game and stop taking a few plays off here and there."
Fairport scored 12 straight to take a brief lead in the second quarter. Dan Masino used an up-and-under move off an inbound pass for an and-one. TJ Hendricks followed with a steal and lead to Masino for a bucket. Matthew Keenan scored on a layup. Hendricks tied the score at 17 when he took an inside-out pass from Ryan Algier and nailed a triple. Keenan scored on a reverse layup for a 19-17 Fairport edge.
"We're pretty deep," Fitch said. "I think that's one of the things we have going for us as we enter sectionals. We 'll learn from this. It's fun to play big games. That's where you get better."
Kearney outscored the Red Raiders 22-11 to close the second quarter for a 42-31 lead. The Kings pushed the advantage to 13 early in the third  when Nahziah Carter scored on a layup.
But Fairport rallied. Masino made it a six-point game at 50-44 with a steal and layup late in the third quarter.
Early in the fourth, Fairport converted six straight free throws. Moments later, the Red Raiders took possession when Matt Muncey drew a charge. At the other end of the floor, Masino  found Muncey open underneath for a bucket. Fairport trailed 57-54.
Muncey took four charges on the night.
"That's what he brings," Fitch said of the junior. "That's his value to this team or one of them. He's great at it. If we had a couple more guys doing that, I think we probably would have gotten the W tonight."
Rose and Nahziah Carter combined to give Kearney a 63-59 lead before Masino responded with back-to-back buckets to tie the score.
"I'm really proud of them," Fitch said of his team. "It's a character check. That's why I love this team right now. They were never out of it. They didn't hang their heads. They didn't point fingers. Obviously would have like to have finished it."
Naziah Carter finished with 15 for Kearney which improved to 13-5 with the win. Brian Fobbs added nine. Rian Carter hit two 3s and a pair of free throws to finish with eight. It was Carter who hit the game-winning three when Kearney beat Bishop Ludden, 70-67 last month.
Masino led Fairport (16-3) with 19. Keenan added 11. Algier had nine.