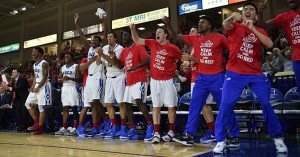 Courtesy of FGCUAthletics.com
DUNK CITY, Fla. – Redshirt junior Demetris Morant returned to the FGCU lineup Saturday night, blocked the first shot of the game and finished as one of six double-figure scorers for the Eagles (14-11, 5-4 A-Sun), who handed Atlantic Sun Conference leader North Florida (18-8, 7-2 A-Sun) its third-largest defeat of the year, 81-65, in front of a raucous and season-high 4,522 fans at Alico Arena.
Morant (Miami, Fla./UNLV/Bishop Gorman HS) – FGCU's leading shot blocker and rebounder in terms of per-game average – had missed the previous seven games with a muscle bruise in his right leg, but returned to the tune of a season-high 12 points – including a patented alley-oop finish in the second half which for all intents and purposes finished off the Ospreys.
FGCU held the 5th-highest scoring offense in the country to a season-low 35-percent shooting (21-60) from the floor, 20 points below their season average and limited the nation's most lethal 3-point attack to just 28.6 percent (10-35) from beyond the arc. Additionally, the Green and Blue frustrated the A-Sun's leading scorer, Dallas Moore (20.3), and held him to just five points on 2-10 from the floor – the first time this year he has failed to reach double-figure points.
Redshirt senior Julian DeBose (Washington, D.C./Rice/St. John College HS) became the 7th player in program history to reach 1,000 career points as he entered the contest needing just five points to reach the mark and finished with a team-high 16. Redshirt junior Marc-Eddy Norelia (Orlando, Fla./Tulane/Olympia HS) matched the program's single-season record with his ninth double-double as the southpaw added 13 points and a game-high 11 rebounds.
Sophomore Christian Terrell (Jacksonville, Fla./Providence HS) came off the bench and netted 14 points while grabbing seven rebounds, issuing four assists and recording three stealsin 37 minutes of action. Redshirt sophomore Antravious Simmons (Miami, Fla./VCU/South Miami HS) added 12 points on 6-7 from the floor and corralled six rebounds in only 16 minutes of action. Redshirt freshman Zach Johnson (Miami, Fla./Norland HS) continued his stellar play in A-Sun games, finishing with 11 points and a season-high-tying six assists.
The Eagles entered the game with 60.3 percent of their total points coming from 2-point field goals – the 5th-highest in the nation – compared with just 40.7 percent (345 out of 351 teams nationally) for UNF. FGCU, which out-scored the Ospreys in the paint a week ago, 56-24, in an 82-76 loss, again flexed its muscle in the low blocks, out-scoring UNF by a 48-18 mark in the paint.
FGCU – which snapped a four-game losing streak – came out flying and raced to a 22-4 start not even seven minutes in. However, UNF fought back and finished the half on a 31-12 run to take a 35-34 lead into the halftime break.
Holding a 44-43 lead early in the second half, FGCU went on an 11-3 run to open up a nine-point edge, 55-46, following a DeBose baseline 3-pointer. Still up nine, 59-50, with nine minutes remaining, UNF began to extend its zone defense and trap FGCU. That left wide gaps across the low post, and the Eagles responded when Johnson threw a long lob from beyond the 3-point line to a cutting Morant along the baseline, who threw it down, was fouled and made the free throw to put FGCU up 62-50, and it led by double figures the rest of the night as UNF failed to reach 70 points for the first time in an A-Sun contest.
"Our energy level was good, the ball moved really well and we had different guys help us at different stretches," commented FGCU head coach Joe Dooley. "It was nice to have Demetris back out there, Julian played like a senior, Christian gave us a big lift and Antravious made some big plays. It was a good team win."
FGCU turned the ball over a season-low-tying four times, allowing UNF to only score two points off giveaways compared with 10 for the Eagles off eight Ospreys' turnovers. The Eagles shot 50.8 percent from the floor (32-63), including a scorching 56.7 percent (17-30) in the second half.
Beech led UNF with 20 points and nine rebounds, Chris Davenport tallied 14 points and six rebounds and Trent Mackey finished with 13 points and six rebounds. The Ospreys had scored 80 or more points in each of their A-Sun games with the exception of a 78-point outing versus USC Upstate. Only a 57-point performance at Saint Louis and a 61-point outing at Louisville were lower than the 65 points UNF finished with on Saturday.
UNF and Jacksonville are now tied atop the A-Sun standings with 7-2 records. FGCU and NJIT are both 5-4 in the league, while Lipscomb (4-5) is in 5th place, Stetson and Kennesaw State are in 6th place with 3-6 marks and USC Upstate is in 8th place at 2-7.
The Eagles will visit Upstate next on Thursday, Feb. 11, at 7 p.m. before continuing the road trip at NJIT on Saturday, Feb. 13, at 4 p.m.