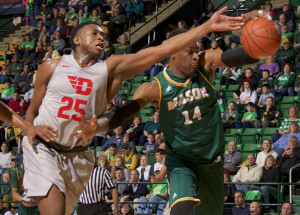 The rundown of this weekend's Atlantic 10 games.
Dayton 98 George Mason 64
FAIRFAX, Va. – Five Flyers scored in double figures as No. 24 Dayton won its seventh in a row with a 98-64 triumph over the George Mason Patriots.
It was the most points scored on the road since UD tallied 110 at Loyola Chicago on Feb 3, 1973.
Charles Cooke led the Flyers with 24 points, while Dyshawn Pierre added 15 points and seven rebounds.
Kendall Pollard chipped in with 13 points while Scoochie Smith recorded 10 points and a career-high eight rebounds. John Crosby also scored a career-high 10 points.
Dayton is now in a tie for first in the Atlantic 10 at 9-1. The Flyers also improved to 19-3 and has won 12 of their last 13 games. READ MORE.
Video
Video courtesy of Atlantic 10 Athletics. 
George Washington 72 VCU 69
Patricio Garino led the way for GW with a career- and game-high 27 points, including a career-high four three-pointers in seven attempts. As a team GW buried 8-of-18 from behind the arc, none bigger than Joe McDonald's go-ahead triple to give GW a 71-69 lead with 1:12 to play. READ MORE. 
Video

Video courtesy of Atlantic 10 Athletics.
Rhode Island 79 La Salle 62
Tied at 29-29 at the half, the Rams connected on 6-of-10 from the floor during the run to build a 44-31 lead with 15:10 left in regulation.  Rhody would shoot 65.4 percent (17-26) from the floor – including 8-of-15 from the outside – over the final 20 minutes of play.  The Rams would lead by as many as 18 points late. READ MORE.
Video

Video courtesy of Atlantic 10 Athletics.
Saint Joseph's 82 Fordham 60
BRONX, N.Y. – Sophomore Shavar Newkirk and freshman Lamarr Kimble each set new career highs in scoring to lead the Saint Joseph's men's basketball team past Fordham, 82-60, at Rose Hill Gym on Saturday afternoon.  Newkirk led all scorers with 17 points, while Kimble chipped in with 13 of his own. READ MORE.
Davidson 93 Duquesne 82
PITTSBURGH, Pa. – Jack Gibbs scored 25 points and Brian Sullivanadded 22 to pace five Davidson players in double figures as the Wildcats defeated Duquesne, 93-82, in A-10 men's basketball action Saturday at the Palumbo Center. READ MORE.
Richmond 69 UMass 53
UNIVERSITY OF RICHMOND, Va. – A stifling defensive effort and a second straight 20-plus point performance from junior T.J. Cline led the University of Richmond men's basketball team to a dominant 69-53 victory over UMass (9-13, 2-8) on Saturday evening at the Robins Center. READ MORE. 
St. Bonaventure 65 Saint Louis 62
The shot capped off a day in which the Bonnies had to battle back from a 50-42 deficit with 8:43 left. Adams tied the game at 57 with 3:44 remaining, and it stayed tight into the closing minute. READ MORE.

Video courtesy of St. Bonaventure Athletics.