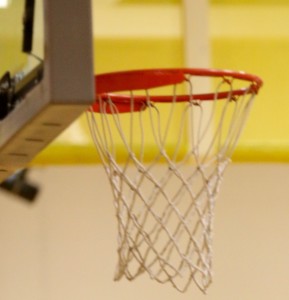 By PAUL GOTHAM
ROCHESTER, N.Y. — The McQuaid Jesuit Knights may boast one of the biggest front courts in the Section Five basketball, but it was their guard play which provided the spark on Tuesday night.
Mark Dipasquale and Anthony Iglesia came off the bench and keyed a 23-10 second quarter as McQuaid went on to a 70-63 victory over the the Wilson Wildcats in RCAC action.
The guard tandem combined for 17 points including five three-pointers in the stanza
"Those two guards off the bench was a huge boost for an offense that was struggling a little bit, McQuaid coach Jack Leasure said.  "That was big time."
Iglesia took an inside-out feed from Thomas Jones and drilled his first of five triples on the night to give McQuaid its first lead of the quarter at 18-16.
DiPasquale followed with a floater in the lane and trey of his own on the next trip down the floor. Iglesia took over from there drilling 3-pointers in two of the next three possessions. Brendan Broderick pushed the lead to double digits with a steal and layup. McQuaid led 31-20 and took a 34-24 advantage into the locker room at halftime.
The outcome was the same, but the script read differently. On January 20th when these teams last met, Wilson switched to man-to-man defense in the second half and erased a double-digit lead before falling by five, 62-57. Tuesday the Wildcats played man for the entire game.
"They had some success with it last game," Leasure noted.  "We planned for that today. We came out a little slow. We were a little stagnant. Last game we didn't play that fast."
The Knights were able to create movement and cuts off screens to get better looks at the basket.
"We played well," Leasure added. "When we got to doing that in this game, that's when we had success. That was encouraging."
"We didn't play zone well the first game against them," Wilson head coach Brendan O'Toole said.  "Whole second half we played man, and that's when we played well. We thought let's just open in man. We've been playing man a little bit recently. It's been pretty good for us, so we thought 'let's just do it.' Even with the size advantage We thought that man would be our best option."
McQuaid eventually pushed the lead to 15 when Broderick scored back-to-back baskets. The 5'9″ guard took an inside-out pass from Isaiah Stewart and connected from behind the arc. Dipasquale fed him two possessions later for another basket and a 46-31 McQuaid lead with 2:43 to go in the third quarter.
As is often the case though with Wilson, the Wildcats made a run late in the game.
"They're very good," Leasure said. "They're a scrappy team. They play hard. They hang with everybody. They make every game tough."
Trailing by 11 at the end of the third, Donovan Campbell connected on back-to-back triples to cut the lead to five. Campbell's second 3-pointer came on a set play out of a timeout. Wilson ran a high one-four set. Campbell took a handoff from Earl English and connected near the top of the arc.
"When we got good movement, I thought we got good looks," O'Toole stated.
McQuaid pushed the lead back to 10 when Stewart used an up and under move in the post for a 57-47 lead.
Campbell connected again from long range. Patrick Phillips converted a rebound and putback. Wilson trailed by five at 66-61 with 22.4 but could not get any closer.
"We just keep playing hard," O'Toole said noting the tone set by Campbell, English and Phillips. "We're never out of a game because of how hard we play."
"First half we had three mental breakdowns defensively and gave up their threes," O'Toole noted. "We had one in the second half. Four of the threes they his were just mental breakdowns, defensively. It's not us getting hit by screens or anything, and that really hurt."
Iglesia finished with 17 points for McQuaid (11-4). Stewart added 11 including a pair of baskets where the 6-7 freshman grabbed defensive rebounds and went end-to-end for dunks. Stewart grabbed 11 rebounds and handed out four assists.
Jones, a 6-4 sophomore, scored 16. Broderick had 12 and Dipasquale five.
Cam Wilson recorded a double-double. The 6-9 junior grabbed 11 rebounds and blocked 11 shots.
"Coming here we knew this was going to be a tough one, and the kids played well, played well at the right time," Leasuere said. "We haven't been playing that great in late-game situations, end of quarters things like that. We worked on that. It translated I thought today."
English scored seven of his game-high 19 as Wilson (8-9) grabbed an early six-point edge. The junior forward hit a pull-up three to start the Wildcats. After Robert Davis connected on a floater outside the lane, English grabbed a defensive rebound and went the length of the floor for a layup. English made it a 9-6 game when he scored in the lane. Robert Davis made it a 14-8 game with a layup.
Wilson led 14-11 after the first quarter.
Campbell had 16 for Wilson. Robert Davis scored 15. Ricky Gamble hit three 3's for nine points.