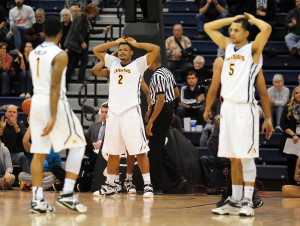 Courtesy of GoGriffs.com
Rider forward Kahlil Thomas scored 21 points to go with 14 rebounds and the host Broncs shot 57.4 percent from the field and 53.3 percent from 3-point range en route to a 79-68 win over Canisius Sunday afternoon in Lawrenceville, N.J. The win, Rider's third straight, improves the team to 9-13 overall and 5-6 in league play while the Golden Griffins have now dropped three straight to fall to 10-13 overall and 5-7 in MAAC action.
Canisius sophomore Kassius Robertson scored a game-high 24 points and grabbed a team-high five rebounds for the Griffs, who shot 41.7 percent from the field, 30.4 from 3point land and 87.5 percent from the free-throw line in the loss. Fellow sophomore Jermaine Crumpton added 20 points in 28 minutes off the bench, while senior Malcolm McMillan chipped in 12 points to go with four boards and two assists. McMillan's driving lay-up with 18:08 left in regulation time allowed the Baltimore, Md., native to reach the 1,000-point mark for his career, which included three previous seasons at Central Connecticut State.
Canisius trailed by as many as 13 points early in the second half, but the Blue and Gold battled back, thanks to an 18-for-20 effort from the free-throw line in the game's second half, to get within five at 64-59 with 6:27 left to play. After a Rider turnover, Crumpton drilled a 3-pointer from the top of the key with 5:42 left to play to cut Rider's cushion to 64-62.
Rider answered with a basket on its next possession to make the score 66-62, and after a Rider timeout, Canisius turned the ball over on back-to-back possession which resulted in four points for the Broncs, allowing the home team to stretch its lead to 70-62 with 3:48 left to play. Robertson's jumper with 1:25 left on the game clock put Canisius down 74-68, but the Broncs, who shot just 56.7 percent from the free-throw line for the game, went 5-for-7 from the free-throw line in the game's closing 1:20 to seal the victory.
How It Happened:
• Rider came out of the gates and took an early 9-2 lead just 5:50 into the game. After a Canisius timeout, Crumpton knocked down the first of his two treys on the day to make the score 9-5, but Rider used a 7-3 run over the next 2:00to take a 16-8 lead.
• After a traditional three-point play by Thomas with 7:02 left before the half, Rider led Canisius 21-14. From there, the Griffs went on a 12-4 run, keyed by a pair of 3-pointers from Robertson, and the Griffs took a 26-25 lead with 4:33left before halftime when McMillan drove through the lane and laid one off the glass for two of his 12 points.
• Rider ended the first half on a 10-3 run to take a 35-29 lead into the locker room at intermission. The Broncs shot 59.1 percent from the field and 55.6 percent from behind the 3-point arc in the game's opening 20 minutes.
• An 8-3 run to start the second half put Rider up 45-32 with 17:14 left on the clock. In that run, Zedric Sadler scored four points and Teddy Okereafor and Khalil Alford hit back-to-back treys for the home team. Robertson stopped that run for Canisius by hitting three free-throws with 16:52 left to play, and a basket by Crumpton with 16"05 left in regulation time got Canisius within eight at 45-37.
• Rider led 60-49 with 9:17 left to play before Canisius was able to whittled the Broncs' cushion down to seven at 60-53 thanks to four-straight free-throws by Crumpton. McMillan and Crumpton combined to score the next six points for the Griffs to get the team within five at 64-59, and then Crumpton's trey with 5:42 on the clock put Canisius down just two at 64-62, but that would be as close as the Griffs would get down the stretch.
Beyond the Box Score:
• Rider out rebounded Canisius 33-25, and the Broncs held a 32-18 advantage in points scored in the paint.
• Canisius shot a season-best 87.5 percent (21-for-24) from the free-throw line. In the team's last two games, the Griffs are shooting 87.2 percent (41-for-47) from the stripe
• Canisius trailed at the half for the 14th time this season. The Griffs are 3-11 in those 14 contests.
• The Griffs were charged with 11 turnovers in the loss, the third-straight game where the team had 11 turnovers.
Quotes from Canisius coach Jim Baron
"Rider is a good team. They started slow this season, but they have a lot of veteran leadership and they seemed to get every loose ball today. Give them credit, but I thought our guys played hard. We got down early and the crowd was really into it, but our guys didn't put their heads down and they kept battling."
"We were right there. Obviously, those back-to-back turnovers really hurt us, and it gave them all the momentum the rest of the way. I still believe in this team. No one has packed it in. Our guys still believe and we're going to keep working to get better."
"We need to continue to push forward as a group. We just played five of our last six league games on the road. Now we get to play five of our next eight league games at home. Our guys know we make a few more stops and get a few more baskets, and we're right there."
Additional Game Notes:
• This was the 43rd all-time meeting between these two programs, with Rider leading the series 33-10.
• The Broncs have now beaten the Griffs in three-straight match-up, and the win for Rider in Alumni Gymnasium moves the Broncs to 17-3 all-time at home against Canisius.
• The 24-point effort by Robinson was the fifth 20-plus point game for the sophomore this season.
• Crumpton's 20 points gives him double-figures in the scoring column in 16 of the 20 games he's played this year.
• McMillan joins former Griffs Billy Baron, Chris Perez and Isaac Sosa in scoring their 1,000-career point when starting their career at a different school.
• McMillan was a perfect 6-for-6 from the free-throw line and he's now made 17-straight free-throws after going 0-for-2 in the loss to Siena Jan. 24.
• Canisius was without the services of redshirt-freshman Isaiah Gurley, who did not dress on Sunday because of an illness.
Up Next: After playing eight of their 11 games in the month of January on the road, the Griffs will start a stretch of playing five of their last eight games of the regular-season at home, starting Friday, Feb. 5, when Iona travels to the Koessler Athletic Center. Game time is set for 7 p.m. That game will be broadcast live on ESPN3, with the radio call on Timeless WECK 1230-AM and 102.9-FM in Buffalo and through GoGriffs.com.