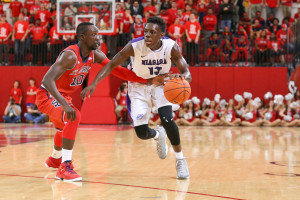 Courtesy of PurpleEagles.com
POUGHKEEPSIE, N.Y. – Matt Scott's career-high 32 points and a 3-pointer in the final seconds by Karonn Davis capped a furious second half rally as the Purple Eagles defeated the Marist Red Foxes, 69-66, on Thursday night from the McCann Center.
"That was a terrific comeback by our team," head coach Chris Casey said. "I thought the thing that triggered it was we finally got a foothold defensively in the second half .They were making a lot of shots, and credit to them as they ran their offense really well in the first half. In the second half, particularly in the last 10 minutes, we held them down. They ended up shooting 37 percent from the floor in the second half and that was a big key."
Scott filled the stat sheet tonight en route to his fifth double-double of the season. The true sophomore led the game in scoring with 32, rebounds with 13, assists with five, steals with four and in minutes with a career-high 40. Scott gave Niagara (6-16, 4-7 MAAC) its first lead of the game on a steal and layup with 3:39 left and had the game-winning assist with three seconds remaining.
Trailing 58-43 with less than 12 minutes left, the Purple Eagles outscored the Red Foxes 23-4 over an 11-minute span to take a 66-62 lead.  Marist, then, tied the game on back-to-back baskets as NU had possession with 16 seconds left. With the clock dwindling down, Scott found Davis in the left corner and he connected on his second game-winning 3-pointer of his career.
"Matt obviously had a monster game, but the best thing he did was he at the end of the game he trusted his teammates and he pitched that drive out to Karonn for the open 3-pointer and he nailed it," Casey said.
Niagara trailed at halftime, 40-29. Scott and Dominic Robb combined for 23 of Niagara's 29 first half points with Scott having the lions' share with 15 points for the most by a Purple Eagle in the first half this season. However, Marist (4-15, 1-9 MAAC) connected on seven of its 13 3-point attempts and shot over 62 percent from the field.
The Purple Eagles continue their three games in five days schedule on the road against Quinnipiac on Saturday, Jan. 30 at 2 p.m.The game will air live on WGR 550 AM and on www.PurpleEagles.com/Watch.