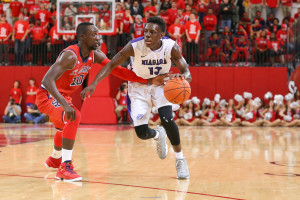 Courtesy of PurpleEagles.com
NIAGARA UNIV., N.Y. – Matt Scott poured in a career-high 31 points to lead all scorers, but Niagara was unable to overcome a slow start as it fell to Siena, 82-70, on Tuesday night.
The Purple Eagles (5-16; 3-7 MAAC) jumped out to a quick 5-0 lead 1:56 into the contest, but the Saints (14-7; 7-3 MAAC) responded with a 19-0 run over the next 4:35 to take a lead they would sustain throughout the remaining of the contest.
"You can't put yourself in a hole against a good team," head coach Chris Casey said. "I thought we did fight back and get it back into striking distance, but then they made a play (and then) consecutive plays, and pushed it back to 10 (points). We needed to be better in the first 10 minutes. It was not normal for us. We usually start pretty well and that has never been a problem for us this season, but we didn't start well today."
With 10:30 remaining left in the first half, Niagara found itself in a 29-10 hole, its largest deficit of the contest. However, Emile Blackman and Scott combined for 17 points as Niagara closed the half on a 22-9 run to trim Siena's lead to 38-32 at the break.
Siena pushed its lead to 14 points with 9:28 remaining, but eight straight points by Scott trimmed the deficit to 60-54 with 7:42 left. However, a quick 7-0 spurt by the Saints halted Niagara's momentum.
Scott once again spearheaded a comeback attempt, scoring five of the Purple Eagles' next 11 points including a jumper to cut the score to 72-65 with 2:40 remaining. On the en suing possession, Siena's Nico Clareth hit a 3-pointer as the shot clock expired as the Saints went on the win their seventh straight in the series.
Scott bested his career high of 23 points, which he has netted twice this season, and became the first Purple Eagle to drop 30 points in a game since Blackman scored 32 points at Quinnipiac last February. Scott set a career-high in free throws for the second straight game. Scott went 13-for-13 from the charity stripe for the highest percentage in the MAAC this season; he also grabbed a team-high seven rebounds. Blackman added 22 points as the duo scored at least 20 points in the same game for the third time this season.
Niagara hits the road this Thursday for its meeting with Marist Red Foxes with tipoff at 7:30 p.m.. The game will be broadcast on ESPN3 and on the Niagara Sports Network via AM 1400 WWWS and www.PurpleEagles.com/Watch.