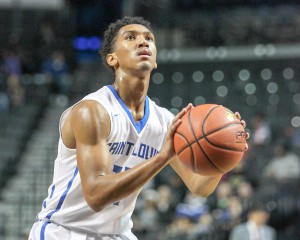 By PAUL GOTHAM
One player doesn't make a team, but he can be the difference.
That might be the case for the Saint Louis Billikens. Since opening the Atlantic 10 season with one win their first four games, Saint Louis has taken their last two in conference play. A couple of lineup changes have occurred – none more important than the insertion of Jermaine Bishop into the starting lineup.
Playing 31.7 minutes over SLU's last three games, the 6-1 freshman guard has averaged 17.3 points. This after seeing no more than 11 minutes in any of the Billikens first 15 games.
"Jermaine is a kid that we thought that would eventually get in there," Saint Louis head coach Jim Crews said during the Atlantic 10's weekly tele-conference. "He's got a pretty good feel for the game and really makes it a little bit simpler for everybody else. He's been a big plus for us here."
Saint Louis averages 67.6 points a game. With Bishop in the starting lineup, the Bills are scoring 87 a game.
Bishop averaged 18.5 points in two wins last week and claimed A-10 rookie honors for the second straight time. He shot 13-of-21 (61.9 percent), handing out seven assists while committing just one turnover.
The Holy Cross product from Queens, New York notched a career high 23 in a 96-87 win over Davidson. The performance did not go overlooked by Wildcats' head coach, Bob Mckillop.
"I have a tremendous appreciation for the guys who go through the New York City Catholic League," said McKillop who played his high school ball at Chaminade in the CHSAA. "Jermaine has those instincts. He has control. He has that sense that I think is so typical of many of those guards who come out of the Catholic League in New York City."
Bishop hit 6-of-11 from the floor including 3-of-7 behind the arc while handing out six assists in the win.
"He just has a presence for a freshman, a poise," McKillop said. "He can shoot the ball very, very well. He can get into cracks and create scoring opportunities for himself as well as for his teammates. For a freshman I also think he does pretty darn well defensively."
Bishop's increase in minutes started against Duquesne where he came of the bench.
A broken nose suffered in practice on December fourth slowed his progress. He did not play in the next two games and saw limited minutes after that. Against the Dukes, Bishop scored 21 points in 25 minutes.
"That kinda set him back," Crews said of the broken nose. "We threw him in there, and he's done a good job… We're excited about Jermaine."
Per KenPom, Bishop has an offensive rating (estimate of points per 100 possessions created by the player) of 133.5 over the last four games.
The Billikens travel to Dayton to take on a Flyers (16-3/6-1) team which has won four straight and nine of ten.
"Opportunity is the big thing," UD head coach Archie Miller said of Bishop. "Obviously, Coach Crews has given him a window. To the young guy's credit, he's taken a step in there, and he's taken another one.
"Any time a player gets an opportunity to go out there and play, it always sets them up if they're ready to go when their number's called is to create a new identity, a new role. I think he's done an amazing job of stepping in and being ready when his number was called. Now that his number has been called, his role has changed. His role will grow. That's what happens with all young guys when they get a chance."
Junior Aaron Hines also joined the starting five with Bishop. Hines is averaging 13 points and three assists in the three starts.
"We had some kids that really hadn't played earlier in the year," Crews added. "They've done their due diligence and never blinked. Came to work early and stayed late. They got their opportunities and they've played well."
A 7 p.m. tip off is scheduled Wednesday night. Dayton leads the all-time series 27-22. The game will be televised on FS Midwest and TWC Ohio.