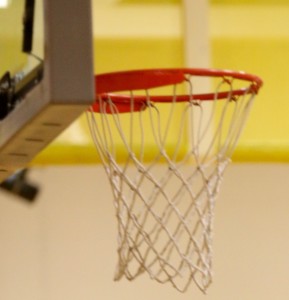 By PAUL GOTHAM
ROCHESTER, N.Y. — Isaiah Stewart led three in double figures, and the McQuaid Jesuit Knights defeated the Wilson Wildcats 62-57 in RCAC action, Wednesday night.
Stewart netted eight of his game-high 18 in the fourth quarter, The freshman forward also added a pivotal assist.
Coming out of a timeout and clinging to a four-point edge with 1:13 to go, Stewart took a pass in the low post. When Wilson's defense collapsed on him, the 6-7 Stewart found teammate Cam Wilson open at the free throw line for a jumper.
"That put the game away I think," McQuaid head coach Jack Leasure said. "It was an excellent job by Isaiah. He was getting a ton of attention. Just finding where that help came from and hitting the right guy.
It was also a little redemption for Cam Wilson.
"Cam had missed a couple already today. He shot that with confidence. That was a big shot for us."
Stewart added some insurance when he tapped in a missed free throw with 22.9 remaining in the game for a 62-54 McQuaid lead.
McQuaid held a 12-point advantage at half.
Earl English and Robert Davis paced a third quarter rally as Wilson outscored McQuaid 15-4 cutting the lead to one.
"Wilson is a very good team with a bunch of talented guys," Leasure said. "Our league this year is very good, top to bottom. There's really no breaks. You got to come ready to compete every night."
English grabbed an offensive rebound and drove baseline for a reverse layup to start the stanza. On the next possession, the 6-0 junior used the dribble to get in the lane from the wing for another basket. His drive and layup from the free line made it a 40-35 game.
"We knew they were going to block some shots, but you can't shy away from it," Wilson head coach Brendan O'Toole said of his team's plan to get the ball in the lane. "You still have to go and attack. Earl is our strongest guy, but he's also one of our best finishers. He got it going in the third quarter. He was tough, made some good finishes. He was the catalyst for us offensively."
Another offensive rebound and Davis drilled a 3-pointer. The freshman guard followed with a pull-up jumper in transition before the end of the third quarter. McQuaid led 42-41.
"We definitely make a point of crashing the boards hard," O'Toole stated "I was happy with that especially in the second half where I felt like we attacked hard at both ends.
"In a couple of our bigger games, that's where we've been strong is on the boards. Even though we're not a very big team at all."
Wilson's Donovan Campbell hit one of his three 3-pointers and knotted the game at 51 with 4:50 remaining in the game.
Stewart scored four as McQuaid responded with 7-2 run.
"It would be easy to sort of fall into that trap once they battled back," Leasure commented.  "But the kids did a good job of persevering."
Brendan Broderick (10) and Jake Purcell (6) combined to connect five times behind the arc in the second quarter. The Knights hit just one triple in the second half.
"We switched our defense at the half," O'Toole said of his team's change to a man defense. "We've played with a lot of intensity playing zone in the past… I was disappointed with the effort in the first half more than anything else, at both ends. We didn't move well offensively.
"Second half, the way we moved defensively and the way we moved offensively I just felt like we got a lot more intensity. The way we fought back against a very good team I'm definitely happy with that."
Broderick scored 15 for McQuaid (9-4) including a game-high 4 3-pointers. Purcell hit three from long range and finished with 11. Seven Knights scored.
Davis led Wilson (7-7) with 15. Campbell and English added 13 apiece.