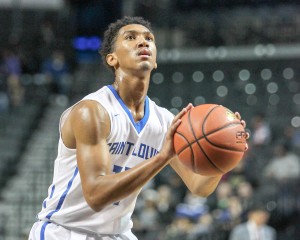 By PAUL GOTHAM
For the first 15 games of this season Jermaine Bishop played a total of 60 minutes. He surpassed that amount in two games last week, and the Saint Louis Billikens freshman guard embraced the opportunity.
Bishop earned Co-Atlantic 10 Conference Rookie of the Week scoring 36 points while handing out nine assists and grabbing six rebounds.
"Jermaine has a good feel in terms of whether to take it to the bucket, when to pull up," Saint Louis head coach Jim Crews said during this week's Atlantic 10 tele-conference. "He's got good basketball sense."
After accounting for just 24 points leading into last week, the Queens, N.Y. native connected on 10 of 24 including 3 of 10 from behind the arc. The 6-1, 160 pound guard turned the ball over just twice in 61 minutes of action.
Per KenPom, Bishop earned an offensive rating (points produced for 100 possessions) of 139 in the Billikens loss to Duquesne and 107 in a setback to George Mason.
"Jermaine has a pretty good sense of basketball," Crews added. "He's got a good feel. He makes passes to other guys at the right time and at the right location.
"He's a typical freshmen in terms of a lot of information, a lot of stuff and he's physically weak a little bit."
Bishop missed some time earlier this season due to a broken nose.
Saint Louis (1-3/6-11) will look to snap a three-game skid when they host Davidson (11-5/3-), Wednesday night. The Billikens have dropped eight of nine. An 8 p.m. tip off is slated.