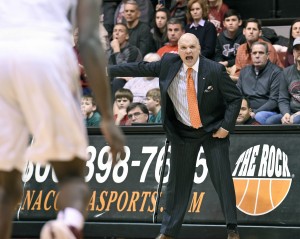 Courtesy of GoExplorers.com
PHILADELPHIA – Many of the outstanding players who have represented the Philadelphia Big 5 over the last 60 years will be on hand and introduced during the doubleheader on Wednesday, January 20 at the Palestra.
Stars representing all five schools from six different decades will be introduced at timeouts during the La Salle-Temple game, and the Penn-Saint Joseph's nightcap. The twin bill will tip off at 7 p.m.
"We believe it's going to be a great night for Big 5 fans and having these former stars return is certainly an exclamation point to the festivities," said Steve Bilsky, Executive Director of the Big 5.  "The Big 5, itself, is a remarkable entity, unduplicated by any other city in America. To be able to celebrate 60 years with individuals who span its entire existence is truly wonderful."
For La Salle, Charlie Greenberg will represent the 1950s. Greenberg was the defensive specialist of the 1954 National Championship team and also played for the Explorers in the 1955 National Championship game.
The 1960s representative for La Salle is Frank Corace. A Big 5 Hall of Famer, he was an honorable mention All-American and Middle Atlantic Conference MVP in 1964. He scored 1,411 career points and led the Explorers to the 1964 Big 5 title.
Jim Crawford will represent the 1970s. This Big 5 Hall of Famer led the Explorers in points and rebounding for two straight seasons and scored over 1,200 career points.
The 1980s representative is Lionel Simmons. The 1990 National Player of the Year, he is third all-time in NCAA history in points with 3,217. He is the only player in NCAA history with over 3,000 points and 1,000 rebounds.
Doug Overton will represent the 1990s. A Big 5 Hall of Famer, he set the La Salle school record for career assists and career steals. A three-time All-Big 5 selection, he played 11 seasons in the NBA.
Lastly, the 2000s representative is Yves Mekongo. A two-time Academic All-American, he scored over 1,000 points and was the 2010 National Scholar-Athlete of the Year.
Former players who have committed from the other Big 5 schools are as follows:
Penn:  Ernie Beck, Stan Pawlak, Corky Calhoun, Paul Little, Ira Bowman, Ibrahim Jaaber
Saint Joseph's:  Joe Spratt, Clifford Anderson, Pat McFarland, Rodney Blake, Rashid Bey, Marvin O'Connor
Temple:  Jay Norman, John Baum, Ollie Johnson, Mark Macon, Aaron McKie, Lynn Greer
Villanova:  Joe Ryan, Jim McMonagle, Keith Herron, Harold Jensen, Eric Eberz, Tony Chennault