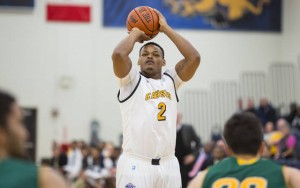 Courtesy of GoGriffs.com
Canisius sophomore Jermaine Crumpton led all scorers with 17 points, 15 of which came in the game's final 20 minutes, and freshman Chris Atkinson added 10 points, four rebounds, three steals and two assists to help lead the Golden Griffins to a 63-53 win over Quinnipiac on the road Sunday afternoon. The win, the Griffs' second straight after four consecutive losses, improves the team to 9-10 overall and 4-4 in MAAC play, while the Bobcats slipped to 5-11 overall and 2-5 in league action.
Crumpton went 6-for-11 from the floor, 2-for-5 from 3-point land and 3-for-4 from the free-throw line to go with three rebounds and two steals in 22 minutes off the bench. Fellow sophomore Kassius Robertson added 11 points to the winning effort, while senior guard Malcolm McMillan was credited with five points and a game-high seven assists. Junior Phil Valenti recorded four points, a team-high nine rebounds, a block and a steal in the win for the Blue and Gold, who shot 40.7 percent from the floor, 40 percent from 3-point range and 68.8 percent from the charity stripe.
For Quinnipiac, guard Ayron Hutton came off the bench and posted a team-high 15 points to go with three rebounds, while backcourt mate Daniel Harris chipped in 14 points to go with five rebounds. The Bobcats shot 33.9 percent from the field and 34.6 percent from long-range, and the team turned the ball over 16 times, which Canisius converted to 21 points.
Canisius led 51-40 with 8:15 left after junior Keifer Douse grabbed a loose ball and raced down the floor for a dunk for two of his career-high six points. Harris hit back-to-back treys for Quinnipiac to get the Bobcats within five at 51-46 with 7:11 left on the clock, and then Quinnipiac cut into Canisius' cushion again when Hutton scored three points in 45 seconds to make the score 51-49 with 5:25 left to play.
Despite not scoring for 5:25 in the second half, Canisius never gave up the lead, and a 3-pointer from Crumpton with 2:50 left on the clock pushed the Blue and Gold's lead back to four points at 54-50. Cumpton's trey kick-started a 12-3 run for the Griffs in the game's final 2:50, with Atkinson scoring five of those points and Valenti adding four to secure the win for Canisius.
How It Happened:
• Canisius jumped out to an early 8-0 lead just 2:17 into the game thanks to a pair of 3-pointers from Robertson and senior Kevin Bleeker, to go with a bucket by senior Jamal Reynolds. Quinnipiac answered with an 8-0 run of its own and tied the score at 8-8 with 11:43 left before halftime on a jumper by Hutton from just inside the free-throw line.
• The Griffs answered Quinnipiac's run with another scoring run, posting nine-straight points in 1:51 to take a 17-8 lead midway through the opening stanza. In that run, Atkinson had five points, while Douse and sophomore Cassidy Ryan chipped in two points apiece.
• The Bobcats answered with a 14-2 run over the next 6:50, capped by a 3-pointer by Harris to make the score 22-21 in favor of the home team with 3:45 left before intermission. Canisius outscored Quinnipiac 8-4 in the final 3:18 of the first half to take a 29-26 lead into the locker room at the break.
• The opening moments of the second half went back-and-forth, with Canisius leading 41-40 with 11:15 left on the clock. Out of the under-12 media timeout, Crumpton hit a pair of free-throws to start a 10-0 run that pushed Canisius to the 51-40 margin. In that run, Crumpton scored seven-straight points, McMillan knocked down a jumper and Douse added two points on his break-away dunk.
Beyond the Box Score:
• Canisius held Quinnipiac to 33.9 percent from the floor in the win, the lowest field goal percentage for a Canisius opponent this season.
• The 35 points off the bench for the Blue and Gold are the most for the team since the Griffs' reserves had 39 points off the bench in the team's triple-overtime win against ULM Dec. 22.
• The Griffs led at intermission for the second-straight game and the team improved to 6-1 this season when leading after 20 minutes.
• Since the start of the of the 2013-14 season, Canisius is 33-4 when leading with 5:00 left in regulation time. The Griffs are 36-1 when leading with just 2:00 left in regulation time in the same time period.
• The Griffs had 16 assists on 22 made field goals, and the team was charged with a season-low six turnovers.
Quotes from Canisius coach Jim Baron
"This is a great road win for us, especially coming off the emotional win at Manhattan on Friday night. I told our guys coming in that this was a crucial game to have after getting that win down at Manhattan. I'm proud of the guys and the way they stated focused at both ends of the floor."
"I thought our bench gave us some great minutes and I thought we did a great job defending. We really executed on offense too. They tried to throw in a little zone, which we knew they were going to do, but we made the extra pass and we made some of our shots. We also made free-throws down the stretch when we needed them."
"I thought Chris Atkinson made some great passes and got guys open looks, and he's really defending. He makes it tough for guys to do what they want to do offensively because he's quick and he is so active with his hands."
"I thought we really defended this weekend, and we executed on offense. We didn't rebound as well as I would have liked today, but we really locked in and played some tight defense that threw them off balance."
"We've been on the road a while. It will be good to get back and then we need to start getting ready to go up to Niagara on Friday night. I'm hoping we can get our fans up there for what we know is going to be a real hard-fought, rivalry game."
Additional Game Notes:
• This was the seventh all-time meeting between these two programs, with Canisius leading the series 5-2.
• The Griffs are 3-0 all-time in Quinnipiac's TD Bank Sports Center.
• McMillan's seven assists were one shy of his season high of eight, which he had at Marist Jan. 2. In his career, he has been credited with five or more assists 35 times.
• Douse's four assists are a new career-high, and he also played a career-high 16 minutes off the bench.
• Sunday's game was the 120th contest at Canisius for Jim Baron. The win, his 68th with the program in four season, ties him with former head coach Luke Urban for ninth all-time in coaching wins on Main Street. Urban was the Griffs' bench boss from 1921-24 and then again from 1925-31.
Up Next: Canisius will close out its four-game road swing Friday, Jan. 22, when the team travels north to play long-time rival Niagara in Lewiston, N.Y. Game time in the Gallagher Center is set for 7 p.m. Friday's game will be broadcast live on ESPNU, online through WATCHESPN and the ESPN APP, and the radio call will be on Timeless WECK 1230-AM and 102.9-FM in Buffalo and GoGriffs.com. The M&T Bank Pregame Show will start at 6:40 p.m.
OTHER GAMES IN THE MAAC
Manhattan 69 Niagara 64
Riverdale, NY – Senior Shane Richards (New York, NY / York Prep) scored a game-high 22 points to lead Manhattan to a 69-64 victory over Niagara at Draddy Gymnasium. READ MORE.

Video courtesy of Manhattan athletics.
Saint Peter's 76 Marist 67
Wyche finished the game 5-for-7 from the floor and 10-for-12 from the free throw line to notch his second 20-point performance of the season. The junior also added nine assists, five rebounds and two steals. After having two points, five assists and four rebounds in the first half, Wyche posted 18 points in the second half to lead the Jersey City team in scoring for the fourth-straight game and for the fifth time in the last seven tilts. READ MORE.
Rider 79 Iona 75
LAWRENCEVILLE, NJ— The Iona school motto, certa bonum certamen, means "fight a good fight."  It was the Rider Broncs who fought the good fight on Sunday, coming back from a 16-point deficit. READ MORE. 
Video
Video courtesy of Rider athletics.