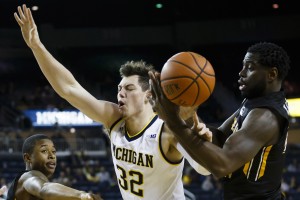 Courtesy of NKUNorse.com
HIGHLAND HEIGHTS, Ky. – The Northern Kentucky University men's basketball team could not overcome Wright State on Saturday afternoon as it fell, 60-46, in the first-ever home Horizon League contest.
With the loss, NKU dips to 4-10 overall and 0-3 in the Horizon League. Wright State improves to 8-8 overall and 2-1 in League action.
Jalen Billups came just shy of a double-double, posting nine points and nine rebounds. The senior forward recorded his 1,000th-career point, which came on a dunk in the game's opening minutes.
Tyler White, Lavone Holland II and Cole Murray were each tied with eight points apiece. Murray issued a perfect 3-for-3 performance from the field including a pair of triples.
WSU was led by Mark Alstork with 18 points and six boards.
A layup from Billups on the game's first possession got the scoring started as NKU led for all but 39 seconds of the opening period.
A 9-2 Norse run capped off by a Dean Danos triple put NKU up by seven at 11-4. The Raiders then caught up to remain within five points of the Norse before taking a brief 24-23 edge at the 1:46 mark.
NKU used a pair of triples from White and Deontae Cole to fight off the Raiders and put NKU back on top.
The Norse held a 28-27 advantage at the intermission after shooting 63.2 percent (12-of-19) in the first half.
Northern Kentucky struggled to connect upon returning to the floor, with Wright State claiming a 44-32 advantage at the midway point of the period.
Three-straight free throws cut the deficit to single digits with 3:59 on the clock, but the Raiders continued to pull away as the Norse were unable to work around the Wright State defense.
The Norse continue their homestand on Thursday, Jan. 14 when they host Youngstown State at 7 p.m.
NORSE NOTES:
After struggling with 11 miscues in the first half, NKU improved to post just a pair of turnovers throughout the second period.
In addition to becoming the 24th Norse to reach the 1,000 point plateau, Billups also recently eclipsed 500 career rebounds. The redshirt senior is the 10th player in NKU history to have reached both marks.
White's eight points on the day pushes his career total to 902.