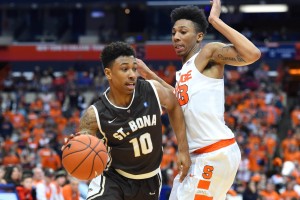 Courtesy of GoBonnies.com
AMHERST — Behind its best shooting performance of the season, St. Bonaventure beat Massachusetts 88-77 on Saturday afternoon to remain undefeated (3-0) in the Atlantic 10.
The Bonnies made 60 percent of their shots (28-47) on the day including 10 of 18 (55 percent) from three-point range. St. Bonaventure also went 22-25 at the free throw line.
St. Bonaventure led 41-36 at halftime and took control by scoring 15 of the first 20 points of the second half. The lead remained around 15 points most of the second half as the Bonnies went 6-11 from long range in the period.
Five Bonnies scored in double figures led by sophomore guard Jaylen Adams with 24 points. Dion Wright finished with 19 points, Marcus Posley had 15, Denzel Gregg 12 and Nelson Kaputo 10.
St. Bonaventure is off to its best start – both overall and in the Atlantic 10 – in 16 years. The last time a Bona team started better was in the 1999-00 season, when the Bonnies opened 12-2 and 4-0.
How It Happened:
The Bonnies fell behind early, trailing 9-4 four minutes into the game.
St. Bonaventure battled back to tie the game at 9 with just over 15 minutes on the clock in the first half.
St. Bonaventure got its first lead at 17-16 on a jump hook by Denzel Gregg.
Wright paced St. Bonaventure in the first half, scoring eight of the Bonnies' first 19 points.
Another finish from Gregg in close and an Idris Taqqee fastbreak layup gave St. Bonaventure a 28-25 lead with

5:33

left in the first half.
Jaylen Adams put the Bonnies up 41-36 at the half when his three-pointer bounced around the rim and dropped in.
The Bonnies got hot early in the second half, making their first three from long range.  Three-pointers from Adams, Posley, and Kaputo put St. Bonaventure up 13 at the

15:38

mark. An offensive rebound put-back by Idris Taqqee also aided the run.
A technical foul on UMass coach Derek Kellogg and the ensuing two free throws by Adams put the Bonnies up 15 with 14 minutes left in the second half.
St. Bonaventure pushed its lead to 19 at 74-55 with

7:00

left after back-to-back three-pointers by Posley and Kaputo.
The Minutemen battled back, and Donte Clark free throws cut the Bonnies' lead to 81-70 with

2:24

remaining.
The Bonnies held off UMass with free throws, going 8-8 at the line over the last

3:14

.
Despite being outrebounded 34-27 and having 19 fouls called against them (compared to 16 on UMass), the Bonnies controlled play thanks to their ball-handling (17 assists on 24 field goals), relatively low turnovers (14) and their hot shooting.
Beyond the Boxscore
The Bonnies are the first team to 3-0 in the Atlantic 10 this season.
Jordan Tyson made the first start of his young career; he had two points and two rebounds

in 20 minutes

.
With his 24 points, Jaylen Adams has now surpassed his point total from his freshman season. The Baltimore native now has 232 points on the season. Adams has also already exceeded his field goal, three-point field goal, and block totals from his rookie campaign.
Dion Wright was effective inside with his 19 points and seven rebounds; he is now 27 points away from 1,000 for his career.
With two blocks, Denzel Gregg has now tied Sam Graham (1985-89) for 9th place on the all-time career blocked shots list. Gregg was also very effective off the bench again, now recording 12 or more points in St. Bonaventure's first three conference games.
After winning their first two A-10 road games, the Bonnies are now 4-2 on the road this season.
Up Next: St. Bonaventure returns home to host Rhode Island on Wednesday, Jan. 13. Game time is set for 7:00 on Time Warner SportsChannel.
OTHER GAMES IN THE ATLANTIC 10.
La Salle 61 Dayton 57 
La Salle took down a ranked opponent for the third time in the past four years as the Explorers captured a 61-57 victory over #25 Dayton on Saturday at Tom Gola Arena. Redshirt junior Jordan Price had 17 points, including the 1,000th of his collegiate career, and sophomore Amar Stukes added 13. READ MORE.

Video courtesy of La Salle Athletics.
George Washington 91 Duquesne 64
WASHINGTON — The George Washington men's basketball returned home on Saturday night and treated a national television audience to a shooting clinic in a 91-64 rout of A-10 foe Duquesne to improve to 13-3 overall and 2-1 in conference play, with an unblemished home record of 10-0. READ MORE.
Davidson 81 George Mason 75
DAVIDSON, N.C. – In addition to Jack Gibbs scoring a game-high 26 points and handing out 7 assists, Davidson drilled 12 3-pointers as the Wildcats defeated George Mason, 81-75, in Atlantic 10 men's basketball action Saturday evening. READ MORE.