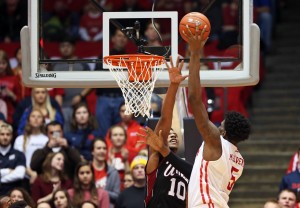 First thoughts after the University of Dayton Flyers victory over the University of Massachusetts Minutemen.
By PAUL GOTHAM
How it happened
Charles Cooke led six in double figures with 18 as No. 25 Dayton (12-2/2-0) won its fifth straight. UD rode an 11-5 spurt early in the first half to grab a double-digit lead at 22-11 and never looked back. The Flyers led by as many as 18 and took a 40-24 advantage into the locker room. Dayton's lead swelled to 31 in the second half. UD's bench outscored their counterparts, 35-11. The Flyers handed out 25 assists on 34 made field goals.
Finding the range
One game after shooting an abysmal 3-of-25 from behind the arc, UD connected on 11-of-25 from long range in the win. Cooke, John Crosby and Sam Miller drilled two 3-pointers a piece.
Give it to the big fella
Steve McElvene finished with 13 points on 5-of-7 shooting. UMass did not have an answer when the 6-11 center went to his jump hook in the lane. Worth noting, McElvene did NOT take a shot in the second half. Not to speak of it, but McElvene committed four fouls in 21 minutes. Yep, still a work in progress.
Johnny B. Goode
Crosby posted career highs with 11 points and five assists. Crosby needed just 19 minutes to get it done.
You were saying
When asked about the prospects of Dyshawn Pierre returning to the starting lineup, Archie Miller said during Monday's Atlantic 10 tele-conference that was "unrealistic" considering the number of practices his players have gone through. Then Kendall Pollard suffered an achilles tendon injury forcing him from the lineup. Enter Pierre who started and scored 11 points, grabbed eight rebounds and handed out four assists. Worth noting he played without committing a foul. Maybe game shape is happening sooner than anticipated.
Making the conversion
Less than six minutes into the contest, Cooke picked up a steal. At the other end of the floor Scoochie Smith fed Pierre for three. It was a sign of things to come. The Flyers converted 16 UMass turnovers into 26 points. UD forces 12.8 miscues per contest. The 16 mishandles represent the most forced by Dayton in a regulation game since the 20 turnovers committed by Alabama. UD forced 16 turnovers against Arkansas in an overtime game. UMass averages 12.2 turnovers. Wednesday's game was the third time this season the Flyers have scored 20 or more points off turnovers with 26 being the season high in regulation. Only twice (Monmouth and Chattanooga) has UD forced fewer than 10 turnovers.
Playing with pace
Per BBState, Dayton came into the game averaging 70.9 possessions per game with 78 trips in a loss to Xavier serving as the high-water mark (had 79 possessions in overtime win against Arkansas) and 61 the low in a win over Miami (OH). UMass entered play averaging 76. 4 possessions per game. The Minutemen had 92 possessions in the win over New Orleans. UMass has only played slower than 70 once this year and that was 65 possessions in a win over Harvard. Wednesday's game consisted of 72 possessions.

Video courtesy of the University of Dayton Athletics. 
Looking ahead
Dayton travels to Philadelphia to play La Salle on Saturday. UMass hosts St. Bonaventure.
Around the A-10
St. Bonaventure 77 George Mason 58
The Bonnies led 37-34 at halftime but seized control with a 10-2 run early in the second half that ended with the visitors ahead 50-41. The Patriots (6-9, 0-2) never came any closer than five points the remainder of the night. READ MORE. 
Fordham 66 La Salle 61
Bronx, N.Y. – On Three Kings Day, Fordham senior forward Ryan Rhoomes gave Ram fans one last Christmas gift as he recorded his fourth double-double of the year, including career-high 18 rebounds, to lead Fordham to a 66-61 Atlantic 10 win over La Salle University in the Rose Hill Gym. READ MORE.

Video courtesy of Fordham Athletics
Davidson 77 Duquesne 66
DAVIDSON, N.C. –– Peyton Aldridge led all players with 22 points andJack Gibbs recorded a double-double with 21 points and 10 assists to lead Davidson past Duquesne, 77-66, in Atlantic 10 men's basketball action Wednesday evening at John M. Belk Arena. READ MORE. 
Saint Louis 65 George Washington 62
Mike Crawford nailed a go-ahead 3-pointer with 24 seconds remaining and iced the game with a pair of late free throws as the Billikens upended George Washington 65-62 Wednesday night in Atlantic 10 Conference action at Chaifetz Arena. READ MORE.