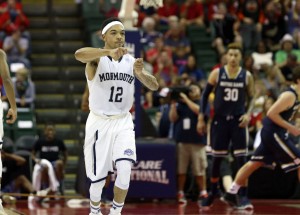 Courtesy of GoGriffs.com
WEST LONG BRANCH, N.J. — The Canisius men's basketball team saw its four-game winning streak come to an end with an 81-66 loss at Monmouth Monday night in West Long Branch, N.J. The Hawks moved to 10-4 overall and 2-1 in MAAC play with the win, while the Golden Griffins fell to 7-7 overall and 2-2 in league play.
Monmouth took control of the game early, outscoring Canisius 19-4 in the game's first 6:17. Monmouth junior Justin Robinson scored a game-high 25 points for the Hawks, his ninth game of 20 or more points of the season, while teammate Collin Stewart came off the bench to add 14 points. Monmouth shot 54.2 percent from the field and 44.4 percent from 3-point land in the win, while the Blue and Gold struggled from the field, shooting just 32.2 percent from the floor and 25 percent from 3-point range.
Four Griffs scored in double-figures, led by sophomore Jermaine Crumpton, who had 15 points on 5-for-8 shooting. Senior Malcolm McMillan added 13 points, while sophomoreKassius Robertson chipped in 12 points and two assists to the losing cause. Junior Phil Valenti had 10 points and seven rebounds, while senior Kevin Bleeker was also credited with seven boards. The loss for the Griffs was the team's first since Dec. 12 at Kent State.
"Monmouth is a good team," Canisius coach Jim Baron said. "They've been sitting here waiting for us and we are coming off an emotional road win up at Marist. They made shots and we missed way too many shots. It's that simple.
"We didn't do a good job at the free-throw line, especially in the first half when we had a chance to cut their lead. They took those misses and turned them into points at the other end of the floor. It was a bad cycle for us."
The 15-point loss was the Griffs' largest margin of defeat this season.
This was the seventh all-time meeting between the two programs, with Monmouth holding a 5-2 lead in the series. Canisius is 0-3 all-time in Monmouth's home building. Canisius, which saw its four-game winning streak come to an end with the loss, has not won five-straight games since the 2006-07 season. Robertson's string of games with 20-plus points scored came to an end in the loss. Canisius had 13 assists on 19 makes from the field, led by McMillan and freshman Chris Atkinson, who had three assists each.
Up Next: Canisius will return home to play host to defending MAAC champion Manhattan at the Koessler Athletic Center on Thursday, Jan. 7. Game time is set for 7 p.m. The game will be broadcast live on ESPN3, with the radio call provided on Timeless WECK 1230-AM and 102.9-FM in Buffalo and through GoGriffs.com.
Other games in the MAAC:
Iona 65 Niagara 52 
NEW ROCHELLE, NY – The Iona College men's basketball team used a stingy defensive effort and strong rebounding to overcome an unusually tough shooting night to earn a 65-52 win over Niagara in Metro Atlantic Athletic Conference play at the Hynes Center. Senior A.J. English scored 21 points and junior Jordan Washington had 20 to help the Gaels improve to 4-0 in MAAC play, to their third straight win overall, their 24th straight in New Rochelle and the 125th victory for head coach Tim Cluess as the Maroon & Gold's skipper. READ MORE.
Manhattan 92 Siena 87 (3OT)
Senior Shane Richards (New York, NY / York Prep) scored seven of his team-high 21 points in the final overtime session to lead a Manhattan squad that placed five student-athletes in double-figures for the first time this season. READ MORE.

Video courtesy of Manhattan athletics. 
Quinnipiac 64 Rider 60
HAMDEN, Conn. – Junior forward Donovan Smith(Chicago, Ill.- pictured) had 15 points and 14 rebounds, including the clinching foul shots with four seconds left to hold off a late Rider rally, as the Quinnipiac men's basketball team earned a 64-60 home win over the Broncs on Monday evening at the TD Bank Sports Center. READ MORE.

Video courtesy of Quinnipiac Athletics.
Saint Peter's 68 Marist 60
POUGHKEEPSIE, N.Y. – Trevis Wyche (Neptune, N.J./Saint Peter's Prep) scored 12 of his game-high 16 points in the first half to give Saint Peter's a double-digit lead at halftime en route to a 68-60 win against Marist in Metro Atlantic Athletic Conference (MAAC) men's basketball action on Monday. READ MORE.
Fairfield 97 Dartmouth 85
FAIRFIELD, Conn. – On some nights, you have it. On other nights, you don't. Fortunately for Jerry Johnson Jr., he's had a lot more haves than have nots.  The freshman made all four three-point field goal attempts he took in the opening half, giving him 13 of his career 20 points as the Fairfield University men's basketball team defeated Dartmouth College by a 97-85 score at Alumni Hall. READ MORE.