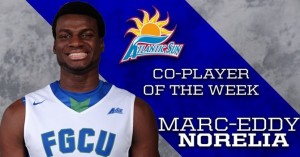 Courtesy of FGCUAthletics.com
MACON, Ga. – Coming off a week in which he nearly averaged a double-double over three games, FGCU forward Marc-Eddy Norelia was named the Atlantic Sun Conference Men's Basketball Co-Player of the Week on Monday by league officials. Norelia shared the honor with Jacksonville's Kori Babineaux.
Norelia (Orlando, Fla./Tulane/Olympia HS) averaged 18 points and nine rebounds per game en route to helping lead the Eagles (8-7) to two wins, with the lone loss coming versus South Dakota in overtime, 89-81. In that contest with the Coyotes last Monday, the redshirt junior notched his fifth 20-point game of the season and sixth double-double of the campaign by grabbing a game-high 12 rebounds. Additionally, he blocked a career-high five shots.
The 6-8 Tulane transfer backed that performance up with a 15-point, nine-rebound outing opposite Atlantic 10 Conference member La Salle on New Year's Eve Day as he led the Eagles to their second victory over an A-10 foe this year, 86-77 (UMass, 77-76). He concluded the weekon Saturday with 19 points and six rebounds as part of a 68-57 win over 10th-ranked Division-II Eckerd.
The honor is the second of the year for Norelia, who garnered A-Sun Player of the Week accolades on Nov. 23 after averaging 22.3 points and 13 rebounds per contest and leading FGCU to three-consecutive wins. Last year, Norelia was named A-Sun Newcomer of the Week once. Earlier this year, freshmen Reggie Reid (Harlem, Ga./Harlem HS) and Rayjon Tucker (Charlotte, N.C./Northside Christian Academy) were both tabbed as A-Sun Newcomer of the Week on Nov. 23 and Dec. 14, respectively.
Norelia leads FGCU and ranks 7th in the league in scoring at 15.7 per game and is 2nd in the A-Sun in rebounding at 8.7 per outing. With one non-conference game still to be played, Norelia is already just one double-double shy of matching the program's Division-I single-season record for double-doubles with seven, held by Chase Fieler in 2013-14. Norelia would already have the single-season D-I record had he secured just one more rebound versus Ohio and the aforementioned La Salle contest. The all-time single-season program record for double-doubles is nine, held by Robinson Tisme in the program's first season in 2002-03.
After scoring 273 points in his entire redshirt sophomore season (8.3 per game), Norelia has already totaled 235 points this year, an increase of 7.4 per outing. He has also drastically increased his rebounding, as after grabbing 170 (5.2 per game) last year, he's secured 130 so far this season.
JU's Babineaux finished the week by tallying 24 points in a narrow loss at Western Michigan. The senior guard began the week with 17 points in a 69-68 win versus Marist, while grabbing six rebounds and dishing out four assists. He followed the Marist outing with 20 points, five rebounds and five assists in a four-point victory against Bethune-Cookman.
Norelia and FGCU have won two in a row to get back above .500 heading into the final non-conference game of the regular season Tuesday at home against NAIA member Webber International (7-8) at 7 p.m. The young Eagles – who receive between 80-90 percent of their points, rebounds and assists from non-seniors – have had all but one of their seven losses come against top-155 RPI teams, including three losses to top-35 teams and four to top-100 opponents.